Cosmetic Dentist - Columbia, TN
We Build Beautiful Smiles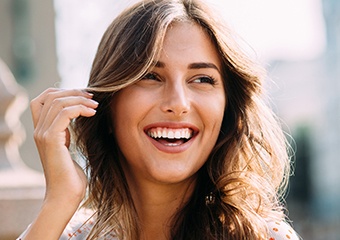 Your smile is a big part of your overall appearance and confidence, and it can make a lasting impression on the people around you. To ensure that this impression is as positive as possible, consider undergoing a personalized cosmetic makeover here at Goodman Family Dentistry. Dr. Goodman offers several aesthetic-based services, leaving patients with flaw-free teeth that truly shine. Contact us today here in Columbia, TN to schedule a visit – our team can't wait to get started.
Porcelain Veneers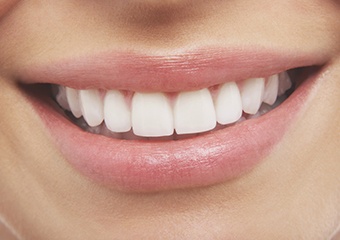 Teeth that have been chipped, cracked, stained, or otherwise damaged can be corrected in a comprehensive fashion with porcelain veneers. This type of restoration is extremely lifelike and ultra-thin, allowing Dr. Goodman to place it over the visible surfaces of certain teeth in a way that looks wholly natural. All at once, years of frustrating imperfections are hidden from view behind a new, refreshed appearance. Our practice offers both traditional veneers and Lumineers®, which is a more affordable and conservative brand of veneer.
Metal-Free Dental Restorations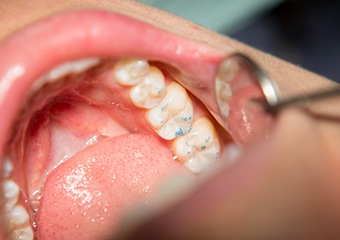 When your smile is in need of restorative work to regain its full strength and function, metal-free dental crowns, inlays, onlays, and other solutions can help patients maintain a cosmetically attractive appearance. Dr. Goodman uses several high-quality materials, including Emax and Zirlux, that look virtually identical to natural tooth enamel, even reflecting light in the same way. This type of restoration is also surprisingly durable, very comfortable within the mouth, and 100% biocompatible for a safe and long-lasting result.
Direct Cosmetic Tooth Bonding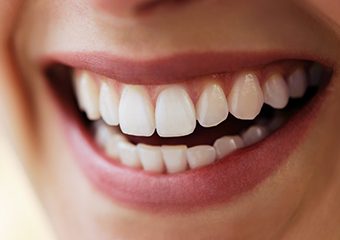 Even the smallest cosmetic issues, like a small bit of chipped enamel or a thin gap between teeth, can distract patients in the bathroom mirror every morning. If you're ready to refresh your look, consider undergoing a direct bonding procedure here in Columbia. This type of service is fast, affordable, and attractive. Dr. Goodman will apply tooth-colored composite resin to the affected tooth and sculpt it into a pleasing shape that blends right in to your smile while hiding the offending area from view. In most cases, this procedure can be completed in just one visit.
Learn More About Cosmetic Bonding
Teeth Whitening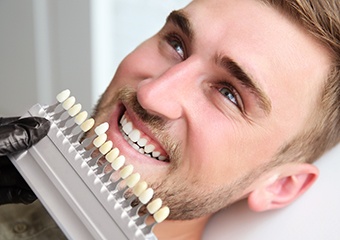 At Goodman Family Dentistry, we're happy to offer multiple teeth whitening options that can help patients brighten their smiles and overcome dull staining and discoloration. If you're looking for fast results, Opalescence Boost in-office whitening can be completed in just one appointment. Alternatively, take-home trays are also available for a more gradual and flexible whitening experience while still creating the same stunningly beautiful improvements.
Learn More About Teeth Whitening
Cosmetic Dentistry FAQs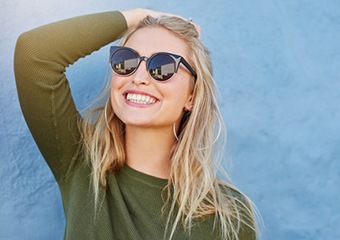 Are you ready to feel proud to show off your pearly whites? As a cosmetic dentist in Columbia, Dr. Goodman offers personalized smile makeovers to help you feel 100% confident in your appearance. However, you might have questions before you begin treatment, which is great because we've got answers! Below, you'll find the answers to some of the cosmetic dentistry questions that our team members are asked the most often. Of course, we can answer any additional questions you may have over the phone or during your consultation.
I Want to Improve My Smile. Where Do I Start?
With all of the options we have for improving your smile here at Goodman Family Dentistry, trying to start the process can feel overwhelming. Fortunately, the first step is easy – all you have to do is call our office and let a member of our team know that you're interested in cosmetic dentistry. Then, we'll set you up with a consultation with Dr. Goodman. He'll talk to you about the specific ways in which you want to transform your smile. From there, the two of you will work together to create a treatment plan that will bring your dream smile to life!
How Do I Close a Gap Between My Teeth?
Having a gap between your front teeth can do a whole lot more than just make you self-conscious; bits of food could get trapped in the space and attract dangerous bacteria. That's why we offer solutions for closing gaps between the teeth. Better yet, these treatments do not take several months or even years like orthodontics do.
The quickest option is direct bonding, which allows Dr. Goodman to fill the gap with composite resin in just a single appointment. Veneers and metal-free dental crowns can also close these gaps. While they take two or three appointments, the results tend to last longer than bonding. At your consultation, we'll go over the pros and cons of each available choice to help you make the decision that's best for you.
Can Anyone Get Cosmetic Dentistry?
Modern techniques and technologies have made it easier than ever to fix dental flaws! That being said, not everyone is a candidate for every cosmetic dental procedure right away. Cavities, gum disease, and other oral health problems can make certain cosmetic treatments uncomfortable or unsuccessful, so we'll need to make sure your smile is healthy before focusing on improving its appearance.
How Long Does Cosmetic Dentistry Take?
Because every smile is different, your cosmetic treatment will probably not take the same amount of time as any other patient. It depends on which flaws you want to fix and which services you choose. Teeth whitening, for example, can be completed in a single appointment, while veneers can take a few weeks.