Emergency Dentist – Columbia, TN
Dr. Goodman Offers A Way to Get Out of Pain Fast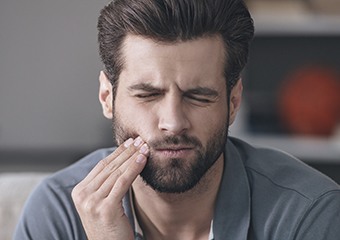 Dental emergencies can strike in the blink of an eye, like a sudden fall down the stairs, or they may develop gradually until the pain is too much for a person to ignore. At Goodman Family Dentistry, our team wants to offer patients the fast and effective relief they need in these frightening situations. Instead of saying "no openings for a few weeks," we'll find time in our schedule for you or your loved one ASAP! Don't hesitate to contact our Columbia, TN location today.
Of course, patients may find themselves unable to reach our office right away after experiencing a dental emergency. Here are some helpful tips for what you and your family can do to improve your situation in the immediate aftermath:
I've Knocked Out My Tooth
Do you still have the tooth? If you do, take care NOT to touch the roots or any of the connected tissue. It is okay to rinse the white crown of any dirt or foreign debris. There is a very limited window available for a natural tooth to be successfully replanted, and keeping the tooth moist during the interim is crucial. If you're able to, carefully place the original tooth back into its original socket. Otherwise, place it in a container of milk if you have some on hand or water if you don't currently have any milk. Contact our office right away!
I've Broken My Tooth
If any large pieces of the tooth have come loose, gather them up and bring them with you to our practice. If you experience any facial swelling (which is likely following this type of injury), a cold compress held against the affected cheek can reduce the discomfort.
I Have A Bad Toothache
Sometimes, serious oral pain is caused by a foreign object (like a popcorn kernel) that's stuck between the teeth. To rule out this possibility, start by flossing and rinsing your mouth thoroughly, paying special attention to the area around the affected tooth. If the discomfort continues, contact Goodman Family Dentistry for further assistance. While it is safe to take a painkiller in the interim, do NOT place it directly on your gum tissue, as it could burn it and cause you even more pain.
How Do I Prevent Dental Emergencies?
While it will never be possible to ensure that you and your loved ones don't experience a dental emergency with 100% certainty, there are several ways to lower the odds in your favor:
Don't chew on the ice in your drink.
Limit your exposure to foods that are overly hard, chewy, or sticky.
Use scissors to open tough packaging and never your own teeth.
Always wear an oral appliance as directed if you struggle with teeth grinding or regularly play sports with physical contact.
Make sure to visit Dr. Goodman every six months for a checkup and cleaning! Our team can keep your smile safe from big dental problems down the road by treating them at their earliest stages.
Dental Emergency FAQs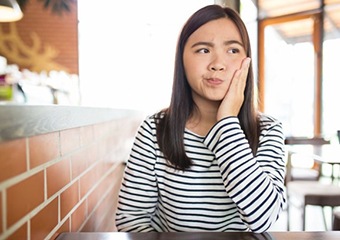 Dr. Goodman and his team are well-equipped and more than ready to handle your dental emergency and get you out of pain quickly. While we sincerely hope you never have to deal with these somewhat scary situations, we want our patients to be as prepared as possible should an emergency strike. For your convenience, we've gathered some of the most common questions we get about emergency dentistry in Columbia below so you can learn more. If you have more questions or if you are in pain, don't hesitate to call us right away!
Will My Toothache Go Away On Its Own?
Some patients avoid seeking the care they need because they don't want to make a big deal out of something small. Unfortunately, teeth can't heal themselves, so taking a "wait and see" approach will usually just let the problem get worse. If your toothache is intense or lasts more than 24 hours, we encourage you to give us a call so we can help you decide what to do next.
Should I Go to the ER Instead of the Dentist?
Most ERs are not equipped or staffed to properly deal with dental emergencies. They may provide antibiotics or pain relivers, but they will likely instruct you to visit a dentist afterwards. You will almost always save time, money and hassle by bringing your dental emergency to us first!
That being said, there are some situations that need to be treated at an ER first before we fix up your smile, including:
Dislocated or broken jaw
Bleeding that hasn't stopped after 10 minutes
Swelling the mouth that's making it hard to swallow or breathe
My Chipped or Cracked Tooth Doesn't Hurt. Do I Still Need to Visit?
Just because your tooth doesn't hurt doesn't mean it's fine. Remember, enamel cannot repair itself. While that chip or crack may seem small and insignificant now, it will only get worse over time. In the end, leaving your injured tooth untreated could mean you need a tooth extraction or root canal when earlier treatment would have been as simple as a filling or crown. Come see us right away if you chip or crack a tooth, even if it doesn't hurt.
Are Knocked-Out Baby Teeth A Dental Emergency?
Baby teeth are meant to come out eventually, but if your child has one knocked out unexpectedly, you should give us a call. We'll likely want to take a look at their mouth to make sure that the permanent tooth underneath wasn't damaged. If the baby tooth was lost prematurely, we may recommend placing a space saver to prevent the neighboring teeth from drifting into the space and trapping the permanent tooth in the gums below them.
Is Emergency Dentistry an Eligible FSA/HSA Expense?
While every case is different, most procedures that are used to treat a dental emergency are eligible as an FSA or HSA expense. When you arrive to our office, our knowledgeable team will look over the details of your plan to confirm your reimbursement benefits. We will always give you an estimate of costs for your chosen treatment before you start it.