Emergency Dentist – Columbia, TN
Dr. Goodman Offers A Way to Get Out of Pain Fast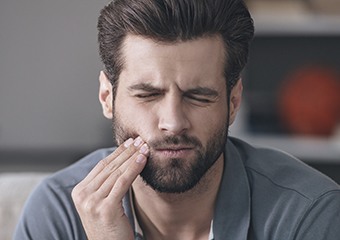 Dental emergencies can strike in the blink of an eye, like a sudden fall down the stairs, or they may develop gradually until the pain is too much for a person to ignore. At Goodman Family Dentistry, our team wants to offer patients the fast and effective relief they need in these frightening situations. Instead of saying "no openings for a few weeks," we'll find time in our schedule for you or your loved one ASAP! Don't hesitate to contact our Columbia, TN location today.
Of course, patients may find themselves unable to reach our office right away after experiencing a dental emergency. Here are some helpful tips for what you and your family can do to improve your situation in the immediate aftermath:
I've Knocked Out My Tooth
Do you still have the tooth? If you do, take care NOT to touch the roots or any of the connected tissue. It is okay to rinse the white crown of any dirt or foreign debris. There is a very limited window available for a natural tooth to be successfully replanted, and keeping the tooth moist during the interim is crucial. If you're able to, carefully place the original tooth back into its original socket. Otherwise, place it in a container of milk if you have some on hand or water if you don't currently have any milk. Contact our office right away!
I've Broken My Tooth
If any large pieces of the tooth have come loose, gather them up and bring them with you to our practice. If you experience any facial swelling (which is likely following this type of injury), a cold compress held against the affected cheek can reduce the discomfort.
I Have A Bad Toothache
Sometimes, serious oral pain is caused by a foreign object (like a popcorn kernel) that's stuck between the teeth. To rule out this possibility, start by flossing and rinsing your mouth thoroughly, paying special attention to the area around the affected tooth. If the discomfort continues, contact Goodman Family Dentistry for further assistance. While it is safe to take a painkiller in the interim, do NOT place it directly on your gum tissue, as it could burn it and cause you even more pain.
How Do I Prevent Dental Emergencies?
While it will never be possible to ensure that you and your loved ones don't experience a dental emergency with 100% certainty, there are several ways to lower the odds in your favor:
Don't chew on the ice in your drink.
Limit your exposure to foods that are overly hard, chewy, or sticky.
Use scissors to open tough packaging and never your own teeth.
Always wear an oral appliance as directed if you struggle with teeth grinding or regularly play sports with physical contact.
Make sure to visit Dr. Goodman every six months for a checkup and cleaning! Our team can keep your smile safe from big dental problems down the road by treating them at their earliest stages.