Dentures & Partial Dentures – Columbia, TN
Regain Confidence in Your Smile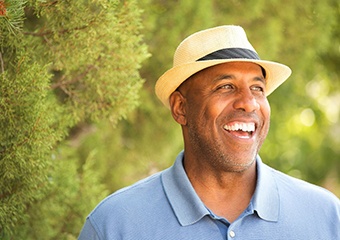 Patients who are missing several or a full row of teeth in the upper or lower jaw should seek replacement as soon as possible. Tooth loss takes a real bite out of your quality of life, and issues like eating, chewing, and speaking are all associated with gaps in the smile.
Dr. Alex Goodman and our team provide full and partial dentures in Columbia, TN. The sturdy, lifelike prosthetic has helped countless patients regain their smile confidence after tooth loss.
What Are Dentures?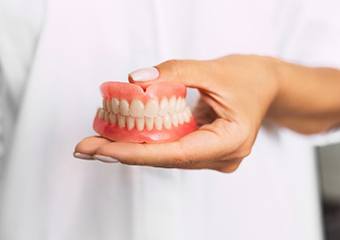 Dentures are one of the most popular methods of replacing missing teeth. A denture consists of an acrylic base the color of your gum tissue with as many false teeth attached as you need to regain confidence in your smile. While your grandparents may have complained about ill-fitting or uncomfortable dentures, dental technology has come a long way since then. Today's dentures are more realistic than ever, and are designed with your comfort in mind.
Am I a Good Candidate for Dentures?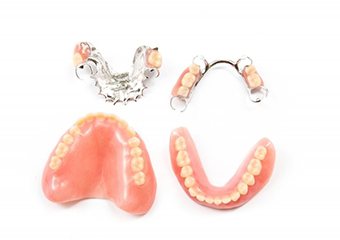 If you are missing any amount of your pearly whites, you might be a candidate for dentures. However, we generally ask that your mouth be infection-free before we undergo this treatment, which is why we highly suggest attending a dental checkup before your consultation for dentures. This way, we can detect whether you have gum disease or any cavities in your remaining teeth and get those issues squared away.
Your Options for Dentures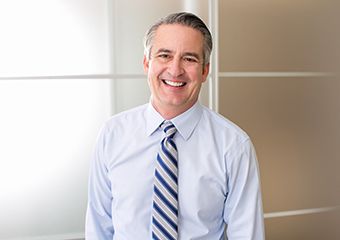 Not all smiles are created equal, which is why we offer three different kinds of dentures to rebuild your smile based on how many teeth you're missing. These options are:
Full Dentures
If you're missing most or all of your teeth on either your top or bottom arch, a full denture can give you a new, beautiful smile in just one treatment. This set of false teeth stay in place thanks to natural suction against the gums. You can also use denture adhesive to increase stability. However, you should remove them at night for cleaning.
Partial Dentures
We normally recommend partial dentures, also known as partials, for patients who still have some natural teeth left. This allows you to retain a complete smile without compromising your remaining tooth structure. A partial in Columbia consists of a metal framework onto which artificial teeth are anchored. The metal part fits comfortably behind your natural teeth and blends into your smile like the missing piece of a puzzle.
Implant-Retained Dentures
If you want to reap all the rewards of dentures without worrying about them coming loose, you might benefit from an implant-retained denture. By placing dental implants directly in your jawbone, we can then attach a full or partial denture that both looks and feels just like the teeth you were born with. As an added bonus, implant-retained dentures help retain the structural integrity of your jawbone, keeping your face looking young for years to come.
Tips for Living with Dentures
Whether your denture is full or partial, there are some maintenance steps that are needed to keep it functioning properly. When properly maintained, a non-implant-supported denture can last for five to seven years before it needs replacing. Tooth replacement with dental implants, on the other hand, can be expected to last for the wearer's lifetime.
You should brush your denture at least once a day. To fully remove plaque, bacteria, and leftover food particles, soak the denture in a gentle denture cleanser at night. Be careful when handling your denture outside of your mouth -- placing a towel on the bathroom counter can help protect it from any accidental drops.
Continue to regularly brush and floss any remaining natural teeth. If you have lost all of your teeth, use gauze or soft toothbrush to clean your gums, tongue, and the roof of your mouth every day.
Notify your dentist if your denture becomes loose, rubs a blister or sore in your mouth, or otherwise starts to lose its fit. A properly fitting denture is necessary for your continued health and wellbeing.
Are you sick and tired of dealing with missing teeth? Are you ready to revitalize your smile with a lifelike and comfortable solution? Then contact us today to schedule a consultation for dentures in Columbia today. We can't wait to help you rebuild your smile!
Understanding the Cost of Dentures
While doing your research online, you may find that pinpointing the exact cost of dentures in Columbia is difficult. That's because dentures aren't a one-size-fits-all treatment – they are custom-made for each patient! As a result, the best way to get a price estimate is by scheduling a consultation with our talented dentist at Goodman Family Dentistry. Until then, you can keep reading to learn a bit more about the factors that influence the price.
Factors That Affect the Cost of Dentures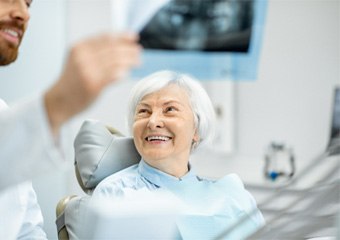 As previously mentioned, dentures are custom-made to address each patient's unique dental needs and smile goals. So, there are several important factors that need to be considered before determining a price, including whether or not any preliminary treatments are required, the number of teeth needing to be replaced, and the material your dentures are being made from. Of course, our Columbia denture dentist, Dr. Goodman, will review all of these and more with you during your initial consultation.
Are Implant Dentures More Expensive?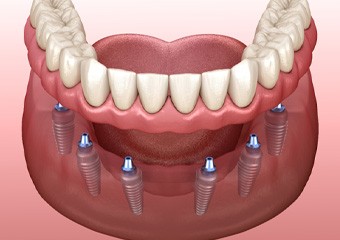 Typically, yes. Since implant dentures require oral surgery, the upfront price typically is higher. Of course, it's important to remember that the long-term cost may end up being the same. After all, implant dentures last significantly longer than traditional dentures. Plus, implant dentures can stimulate your jawbone to preserve your youthful face shape, restore your bite force so you can eat a more varied diet, and provide added stability to prevent uncomfortable movement.
Does Dental Insurance Cover Dentures?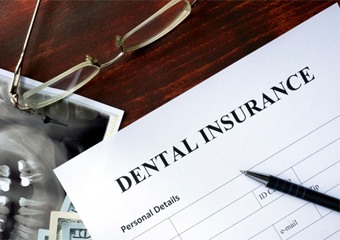 While dental insurance benefits vary, there's a good chance that your provider will cover a portion of the cost. For some patients, it's 50% to 80% of the cost of the restoration, which can reduce your out-of-pocket expenses significantly. Of course, there are lots of factors to consider, including waiting periods, annual deductibles, and yearly maximums. So don't hesitate to ask our team if you need any help understanding how your benefits relate to dentures in Columbia.
Other Options for Making Dentures Affordable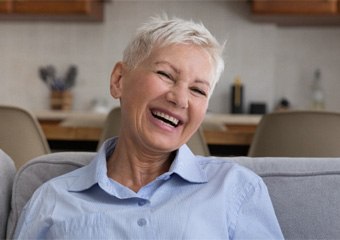 Don't have dental insurance? That's okay – we also happily accept CareCredit to make the cost of dentures in Columbia more affordable. In short, the payment plans with this trusted third-party financier allow you to pick an option that comfortably fits into your monthly budget. As a result, you won't have to pass on the essential care you need because of cost. To learn more about this financial option, get in touch with our team!
Denture FAQs
If you've experienced significant tooth loss, dentures in Columbia are a convenient solution to replace your missing teeth. Although they have been used for generations, it's normal to have a few concerns before you're ready to commit to them. We understand your apprehensions. We'll take the time to explain everything during your consultation. While you wait for your visit, here are the answers to some of the most common questions patients ask us about dentures to help ease your worries.
Do dentures look and feel natural?
Let's face it, dentures have a bad reputation for looking and feeling fake. While this might have been true in the past, they are more realistic than ever thanks to new materials and methods used to create them. They are aesthetically pleasing, so you can smile confidently. You can also enjoy many of your favorite foods again with minimal slipping and irritation. If you're looking for a more realistic option, ask us how dental implants can be used to stabilize your smile.
How long do dentures last?
Traditional dentures last for about 5 to 7 years before needing to be replaced. There are several things you can do to ensure the longevity of your dentures, like caring for them properly each day and keeping them moist when they aren't in your mouth. Regular appointments for maintenance and adjustments can help preserve their durability and fit.
To save money down the road, we can support your denture with dental implants. With the right aftercare, they have the potential to last for decades, so you'll never need to worry about paying to have them replaced.
Should I wear my dentures at night?
In most cases, we recommend removing your dentures at night to clean and soak them. It also gives your gums and soft tissues time to rest. It's best to remove them for at least 8 hours per day to maintain your gum health.
Do I still need dental checkups?
Although dentures aren't subject to tooth decay, you still need to have a preventive appointment at least twice a year. We'll check your oral health to look for any areas of concern, like sores or infections. We will also examine your denture to ensure it's undamaged. If your denture doesn't fit as well as it used to, we can perform the necessary adjustments to restore its comfort.
How much do dentures cost?
There isn't a set fee for dentures because the price is determined by your individual treatment plan. There are several factors that influence the cost, like if you need additional procedures or if you're treating multiple arches. We'll provide you with a personalized estimate during your consultation and discuss your payment options, like using your dental coverage. Every policy differs, but most plans can be used to help offset the cost. Our office accepts a variety of payment methods to cover any remaining balance, like third-party financing. We will help you find the solutions you need to rebuild a beautiful smile without breaking the bank.