Dentures & Partial Dentures – Columbia, TN
Regain Confidence in Your Smile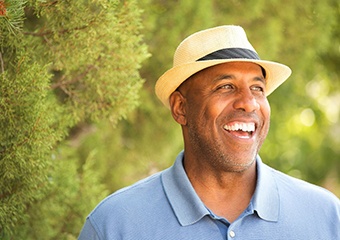 Patients who are missing several or a full row of teeth in the upper or lower jaw should seek replacement as soon as possible. Tooth loss takes a real bite out of your quality of life, and issues like eating, chewing, and speaking are all associated with gaps in the smile.
Dr. Alex Goodman and our team provide full and partial dentures in Columbia, TN. The sturdy, lifelike prosthetic has helped countless patients regain their smile confidence after tooth loss.
What Are Dentures?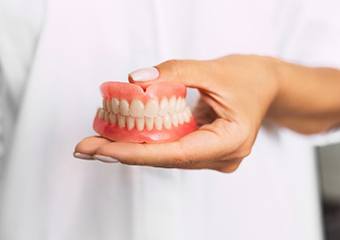 Dentures are one of the most popular methods of replacing missing teeth. A denture consists of an acrylic base the color of your gum tissue with as many false teeth attached as you need to regain confidence in your smile. While your grandparents may have complained about ill-fitting or uncomfortable dentures, dental technology has come a long way since then. Today's dentures are more realistic than ever, and are designed with your comfort in mind.
Am I a Good Candidate for Dentures?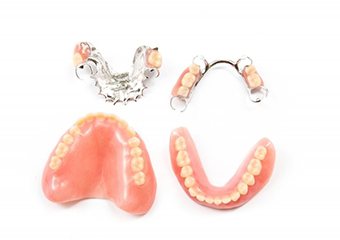 If you are missing any amount of your pearly whites, you might be a candidate for dentures. However, we generally ask that your mouth be infection-free before we undergo this treatment, which is why we highly suggest attending a dental checkup before your consultation for dentures. This way, we can detect whether you have gum disease or any cavities in your remaining teeth and get those issues squared away.
Your Options for Dentures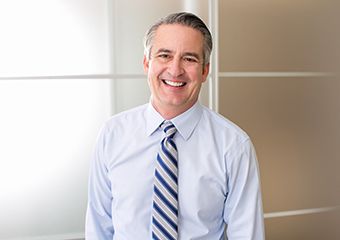 Not all smiles are created equal, which is why we offer three different kinds of dentures to rebuild your smile based on how many teeth you're missing. These options are:
Full Dentures
If you're missing most or all of your teeth on either your top or bottom arch, a full denture can give you a new, beautiful smile in just one treatment. This set of false teeth stay in place thanks to natural suction against the gums. You can also use denture adhesive to increase stability. However, you should remove them at night for cleaning.
Partial Dentures
We normally recommend partial dentures, also known as partials, for patients who still have some natural teeth left. This allows you to retain a complete smile without compromising your remaining tooth structure. A partial in Columbia consists of a metal framework onto which artificial teeth are anchored. The metal part fits comfortably behind your natural teeth and blends into your smile like the missing piece of a puzzle.
Implant-Retained Dentures
If you want to reap all the rewards of dentures without worrying about them coming loose, you might benefit from an implant-retained denture. By placing dental implants directly in your jawbone, we can then attach a full or partial denture that both looks and feels just like the teeth you were born with. As an added bonus, implant-retained dentures help retain the structural integrity of your jawbone, keeping your face looking young for years to come.
Tips for Living with Dentures
Whether your denture is full or partial, there are some maintenance steps that are needed to keep it functioning properly. When properly maintained, a non-implant-supported denture can last for five to seven years before it needs replacing. Tooth replacement with dental implants, on the other hand, can be expected to last for the wearer's lifetime.
You should brush your denture at least once a day. To fully remove plaque, bacteria, and leftover food particles, soak the denture in a gentle denture cleanser at night. Be careful when handling your denture outside of your mouth -- placing a towel on the bathroom counter can help protect it from any accidental drops.
Continue to regularly brush and floss any remaining natural teeth. If you have lost all of your teeth, use gauze or soft toothbrush to clean your gums, tongue, and the roof of your mouth every day.
Notify your dentist if your denture becomes loose, rubs a blister or sore in your mouth, or otherwise starts to lose its fit. A properly fitting denture is necessary for your continued health and wellbeing.
Are you sick and tired of dealing with missing teeth? Are you ready to revitalize your smile with a lifelike and comfortable solution? Then contact us today to schedule a consultation for dentures in Columbia today. We can't wait to help you rebuild your smile!