Dental Implants – Columbia, TN
Rebuild Your Attractive, Complete Smile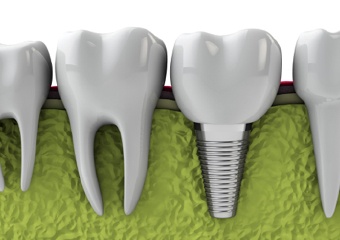 In today's world, there is no better option for replacing missing teeth than dental implants. Dental implants are made from biocompatible titanium, and they are crafted to be prosthetic "tooth roots" that support a high-quality restoration. The final result is healthy, durable, functional, and virtually seamless from the rest of your natural smile.
Dr. Goodman partners with surgical specialists to help patients turn back the clock on their smile. If you are interested in state-of-the-art dental implants in Columbia, contact us today and schedule a consultation.
Benefits of Dental Implants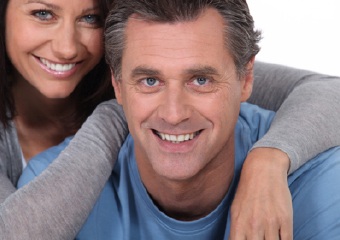 More than 500,000 people every year choose dental implants to replace their missing teeth. As the most predictable and reliable solution, they offer over a 95% success rate. Due to the materials and treatment process that is used, they have the potential to last for a lifetime. In addition to making a long-term investment in your quality of life, you will also enjoy many added benefits that are not possible with other tooth replacement options, such as:
Replace the Root and Crown: Dental implants are the only solution to replace both the root and crown of a tooth. By surgically placing the implant post into your jawbone, it acts as a new root while allowing an all-ceramic crown to fill the space of the missing tooth.
Look and Feel Natural: Dental implants are the next best thing to your natural teeth. With the implant posts securely holding the prosthetic teeth in place, you will enjoy an increased biting force of over 70% when compared to traditional options.
Improve Oral Health: Dental implants do not require your adjacent teeth to hold them in place, so they will not be damaged. In fact, your oral health will improve because the posts stimulate your jawbone to preserve your bone density.
Indications for Dental Implants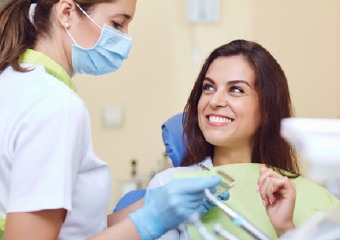 No matter how many teeth you are missing, there is an implant option that can complete your smile. The indications for dental implants are listed in more detail below.
Missing Single Tooth
If only one tooth has been lost, an all-ceramic crown is ideal. Placed on an individual implant post, this natural-looking crown will fit in place between the surrounding natural teeth without negatively affecting their structure. A single tooth implant in Columbia promotes oral health and reduces the risk that you will lose additional teeth.
Missing Multiple Teeth
An implant-retained bridge can recreate consecutive teeth along the same arch by using two implants on either side of the gap to anchor the restoration in place. This method is highly recommended by Dr. Goodman compared to traditional bridges, which require healthy teeth to be filed down to accommodate dental crowns.
Missing All Teeth
Dental implants can still be a viable tooth replacement option even in cases of complete tooth loss. A small number of implants are spread strategically throughout the mouth to support a full prosthetic that is stable, comfortable, and lifelike. A hybrid denture can be permanently fixed within your mouth. Alternatively, a removable overdenture attaches to placed implant abutments.
Understanding the Cost of Dental Implants
Dental implants do cost more than traditional options; however, they have the potential to pay for themselves because you will not need to have adjustments or to have them replaced. When paying for your new smile, there are several factors that will influence the cost, such as:
Number of teeth being replaced
Number of posts, abutments, or crowns needed
Sedation and anesthesia
Diagnostic imaging
Additional procedures, like bone grafting
Dental insurance.
During your initial consultation, you will be provided with an estimate and breakdown of the costs associated with your procedure, as well as your payment options.