Porcelain Veneers in Columbia, TN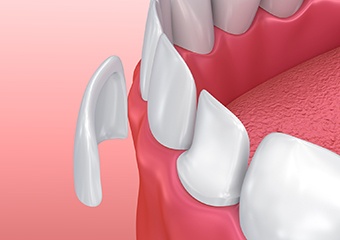 Dr. Goodman and his team know exactly what an attractive smile can do for a person. We've seen the transformation—and we're not only talking about the way your smile looks, but also how a smile can completely change your personality. Patients who were once shy and reserved becoming more outgoing. Embarrassment about your smile becomes confidence and pride. Can all of this really happen because of a beautiful smile? We invite you find out by scheduling a consultation with Dr. Goodman and learning about porcelain veneers in Columbia, TN. These dental wonders are responsible for some remarkable changes among our friends and neighbors and they can do the same for you!
Perfect Your Smile with Porcelain Veneers
Porcelain veneers are ultra-thin coverings for the teeth that people notice most when you smile. They are made of either fine dental porcelain or composite resin, both of which are translucent just like the enamel on your natural teeth. In this way, they reflect light so your smile always looks like your own. In addition, they are individually designed and crafted, so each veneer is the correct size and shape for the tooth it covers. When it comes to color, you and Dr. Goodman will select the shade of white that best complements your complexion and hair color.
Porcelain Veneers Transform Smile Imperfections
Columbia dentist Dr. Goodman uses porcelain veneers to conceal a variety of cosmetic flaws in his patients' smile, including:
A broken tooth
Chips and cracks in your teeth
A smile that is slightly misaligned
Teeth with wide spaces between them
Permanently discolored or stained teeth
Teeth are too small or oddly shaped
Placing Veneers in Columbia
After a consultation at which you and Dr. Goodman discuss what you hope to achieve with veneers and we take X-rays, photos and impressions, the real transformation of your smile can begin. At the first of two scheduled appointments, Dr. Goodman will need to prepare the teeth receiving veneers. This requires filing away a very thin layer of enamel—about as thin as a veneer. Once prepped, we'll bond a temporary set of veneers to your teeth that you'll wear during the two weeks our dental lab spends crafting your permanent set.
At the next appointment, the temporary veneers are removed and your new teeth are readied for veneer placement. Dr. Goodman will check to make sure that each veneer looks perfect and then they will all be cemented into place. The finished result is a transformed smile and a new you!
If you'd like to learn more about porcelain veneers in Columbia, TN near Mt. Pleasant, Culleoka, and Spring Hill, contact the office of Dr. Alex Goodman.