Family Dentistry – Columbia, TN
Treating Smiles of All Ages
No matter how big or small your family is, trying to book appointments with different dentists that fit around everyone's hectic schedules can seem like a nearly impossible feat. That's why it's best to find a family dentist in Columbia who can meet all your loved ones' needs without having to shuffle everyone across town. Fortunately, Dr. Alex Goodman and the rest of our team have experience treating smiles of all ages. Whether your little one just had their first tooth grow in or your grandma is looking for a new pair of dentures, we can meet the whole family's oral health needs. In addition, we offer convenient scheduling so that you can get everyone's appointments taken care of at once.
What Is a Family Dentist?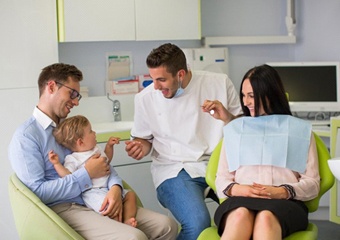 Dr. Goodman is a family dentist, which means he plenty of experience providing dental care to patients of all ages with all kinds of smiles. He's well-versed in the different oral health problems that typically arise at each stage of life and offers a variety of treatments to address these issues. A family dentist is actually quite similar to a general dentist, with the primary difference being that family dentists typically have more experience working with younger patients.
The Benefits of Seeing a Family Dentist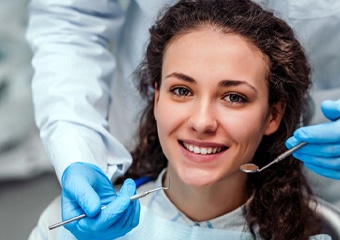 When you decide to take everyone in the family to the same dentist, you can expect to enjoy several benefits, some of which include:
Take care of the whole family's dental needs under one roof
Easy and convenient appointment scheduling
Develop a deep and long-lasting relationship with your dentist as they provide care for your smile throughout your life
Quality preventive dental care helps address small oral health issues before they spiral into larger, more serious problems
A dental team that has plenty of experience with helping children feel relaxed and comfortable in the dental chair
Dental Services for Patients of All Ages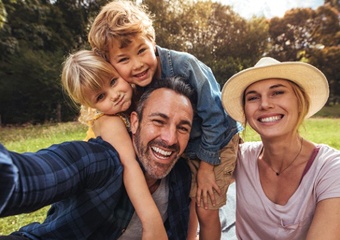 In order to provide the best possible care for you, your children, and your parents, we offer a wide variety of services here at Goodman Family Dentistry, such as:
Regular six-month checkups and cleanings
Cosmetic treatments such as porcelain veneers and teeth whitening
Restorative dentistry, including dentures
Dental implants to replace missing teeth
Tooth-colored fillings to seamlessly repair cavities
Emergency care for when the unexpected happens
Children's preventive treatments to ensure their smile is growing in healthily
If you have questions or would like to learn more about your family dentist in Columbia, don't hesitate to pick up the phone and call our office. Our friendly team would love nothing more than to get to know you so they can help you and your loved ones maintain healthy smiles.