Dental Crowns in Columbia, TN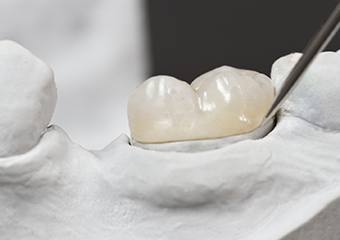 Every tooth is made up of two parts: the crown that is above the gum line and the root that is below it. Needless to say, they aren't completely separate and what happens to the crown can certainly impact the root. That's why a dental crown is such an important restoration. If you have a tooth that is severely damaged by decay or a traumatic injury, then a dental crown may be just what's needed to protect the remaining tooth structure both above and below the gum line. Dr. Goodman often uses dental crowns to help strengthen and protect a damaged tooth, so you can still have an attractive smile with all of your own natural teeth.
When Is A Dental Crown Used?
Dental crowns are part of Dr. Goodman's conservative approach to dentistry, which dictates maintaining and restoring as much natural tooth structure as possible. With this in mind, your Columbia, TN dentist uses dental crowns—also called dental caps—for a number of restorative and cosmetic purposes, including:
Strengthening a tooth that has undergone a root canal
Providing form to a tooth that has suffered extensive decay
Holding together a deeply cracked tooth
Rebuilding a worn down tooth
Securing a dental bridge
Concealing a permanently stained or discolored tooth
Completing a dental implant restoration
What Are Dental Crowns Made Of?
Years ago, dental crowns were only made of metal, like amalgams made from silver or gold. Obviously, these were quite noticeable when you smiled, spoke, or ate. Today, Dr. Goodman can use all-porcelain or all-ceramic crowns. Thanks to advances in the manufacturing of these materials, they are equally as strong and durable as their metal predecessors.
How is a Dental Crown Placed?
You'll probably only need to schedule two appointments that are about two weeks apart for a dental crown procedure. After the local anesthetic has taken effect, Dr. Goodman will begin to prepare the tooth at the first visit. This involves removing any decay as well as a portion of the tooth structure along the biting surface and sides. By reshaping the sides of the tooth, the crown is able to fit comfortably between the teeth along either side; removing some of the biting surface ensures that the crown won't feel high when you bite down.
Once the tooth prep is completed, we take an impression that is used to immediately give you a temporary crown. This same impression is then sent to a special dental lab where the permanent crown is hand crafted. In about two weeks, your new crown will be ready to replace the temporary.
If you need a dental crown in Columbia, TN near Mt Pleasant, Culleoka, and Spring Hill, contact the office of Dr. Alex Goodman.
Dental Crown FAQs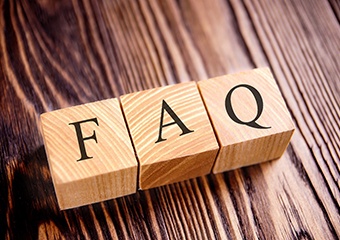 Deciding to move forward with dental treatment is always an important decision that should be informed by the facts. Do you have questions about getting a dental crown in Columbia, TN? We are here for you! Our expert team at Goodman Family Dentistry has collected some of the most common questions we hear regarding dental crowns and answered them in the FAQ section below.
Don't see the information you are looking for? Do not hesitate to contact our office directly via our website or by giving us a call! Our friendly and knowledgeable team is always happy to answer patients' questions regarding crowns and other dental treatments.
How Long Do Dental Crowns Last?
Quality dental crowns typically last between 5 to 15 years before needing to be replaced. Although natural wear and tear will affect your crown over time, you can still help it last as long as possible by practicing excellent oral hygiene at home. After your permanent dental crown is placed, Dr. Goodman will share tips with you on how to take great care of your new dental restoration.
How Much Do Dental Crowns Cost?
The cost of dental crowns is influenced by a variety of factors, such as the patient's dental insurance plan, which materials are used and whether the patient needs just one or multiple crowns. In almost every case, however, the cost of dental crowns is significantly lower than the cost of putting off much-needed restorative treatment. Allowing dental damage or decay to go untreated will likely end up requiring a costly extraction later down the road – so better to act now! To determine the cost of a dental crown for your unique smile, schedule an initial consultation with Dr. Goodman at our conveniently located Columbia office.
Will Insurance Cover My Dental Crown in Columbia, TN?
Most dental insurance plans cover 50% to 70% of restorative treatments such as dental crowns. However, every insurance plan is a little different, so be sure to double check the details of your specific plan before deciding the move forward with restorative treatment. If you need help understanding the fine print of your dental insurance plan, do not hesitate to give us a call! We are happy to help patients navigate the particulars of their dental insurance coverage and minimize their out-of-pocket expenses.
In addition, Goodman Family Dentistry is a proud partner of CareCredit, a third-party financing organization that provides individuals without dental insurance access to no and low-interest payment plans.
What Should I Do if My Crown Falls Out?
A quality crown placed by an experienced dentist is unlikely to fall out, but unexpected accidents and injuries do sometimes occur. If your dental crown falls out, you should immediately call our office to schedule an emergency appointment. In addition, save and clean the inside and outside of your crown. Gently clean the affected tooth with a sensitive toothpaste as well.
Using a small dab of toothpaste, you can try to place the crown back on top of the tooth. Do NOT use any type of glue to try to put the crown back in place.
At your appointment, Dr. Goodman will carefully evaluate your tooth and crown. If both the crown and underlying tooth are undamaged, Dr. Goodman may be able to cement your original crown back into place without difficulty. If not, a more extensive dental procedure or new crown may be required.