Trusted Dentist for Root Canals in Columbia, TN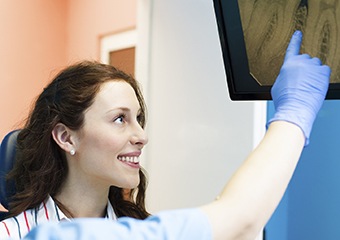 If you have a severely damaged or infected tooth, Dr. Goodman may have recommended you undergo a root canal. When many people hear this, they are quite hesitant to have the procedure. However, root canal therapy in Columbia, TN is vital to restoring the health and function of a tooth. If the procedure is not performed, it can quickly cause additional damage. In some cases, Dr. Goodman may not be able to save the tooth from extraction if the procedure is not performed. If you need a root canal, do not worry. Advancements in dentistry now make the procedure no worse than a typical dental filling.
Root Canal Therapy
More than 15 million root canals are performed each year to protect the integrity of a damaged tooth. When a tooth has suffered significant decay or has become infected, a root canal is needed to stop additional damage. By doing so, the health of the tooth is restored.
After performing an examination and taking images of the tooth, a comprehensive treatment plan is created. During the procedure, a local anesthesia is used to reduce any pain or discomfort you might experience. Then, the tooth is prepared. We remove the damaged areas of the tooth, as well as the pulp. The pulp is the innermost layer of the tooth that contains living connective tissues and cells. While the pulp is needed in a tooth while it is still developing, once fully formed the tooth can survive without it.
After the pulp is removed, we carefully sterilize the tooth to prevent bacterial infections. Finally, we seal the tooth using a special material known as gutta-percha. This seals the tooth to prevent additional damage. If the damage was minimal, you may only need a dental filling to restore the tooth's health. However, often a custom-made dental crown is placed over the tooth. This not only protects the tooth's health, but function and appearance as well.
We take an impression of the tooth to create a dental crown that meets your exact size, color, and shape preferences. After the new crown is created, it is cemented into place to protect the tooth from further damage while restoring oral functions. With advancements in dentistry, you can now benefit from a crown that looks like a natural tooth for a flawless repair.
Treat Damaged Teeth Today
While no one likes to hear that they need a root canal, it is important not to delay treatment. The longer you wait, the more extensive the damage becomes. We offer the high-quality, personalized care patients need to safely and effectively handle their root canal procedure.
As a dentist in Columbia, TN, Dr. Goodman is specially trained in endodontic treatments. Dr. Goodman will create an individualized treatment plan while helping you feel at ease. He will explain the process and answer your questions and concerns for added peace of mind.
If you need a root canal, choose an experienced and trusted restorative dentist. Contact Goodman Family Dentistry today to schedule your consultation.