Your Dentist in Columbia Provides Tooth Extractions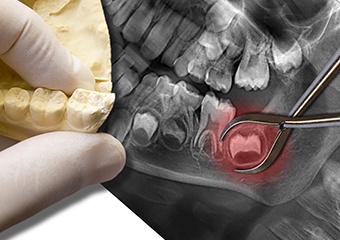 At Goodman Family Dentistry, our first plan of action is always to save your natural teeth -- but sometimes, that's just not the best option for your oral or overall health. When a tooth needs to come out, patients feel comfortable visiting Goodman Family Dentistry for efficient extractions. Are you desperately searching "dentist near me" for a tooth removal in Columbia? Don't put off visiting Dr. Alex R. Goodman and our team for the care you need.
Why Extraction May Be Necessary
There are a few reasons patients may need a tooth extraction. Some of the most common include...
Crowded teeth : If there are extra teeth in the gum line causing crowding, we may need to pull at least one to make room for orthodontic treatment.
Infected or damaged teeth : If teeth are so damaged that there is no hope for treating them with root canal therapy, extraction may be necessary for continued oral health.
Baby teeth : If the primary teeth do not fall out before the permanent teeth are ready to come in, the dentist can pull them to ensure the smile forms properly.
Wisdom teeth : The third molars that may appear in the late teens or early 20s often require removal due to a lack of space in the gum line.
Health conditions : Extraction may be necessary for patients receiving radiation in the head or neck. Patients dealing with weakened immune systems due to drugs for cancers or after organ transplants may need to have teeth extracted.
Types of Tooth Extractions
There are two types of extractions: simple and surgical.
Simple tooth removal : This type of extraction is possible when the tooth is healthy and visible outside of the gum line. To perform a simple extraction, your dentist uses forceps to remove the tooth in a single piece. There is no need for sutures or a scalpel, and recovery is generally fast.
Surgical extraction : Your dentist may need to perform a more complex surgical extraction when the tooth is impacted (partially or completely trapped in the gums) or if it is broken or infected. To perform a surgical extraction, the gum is opened with a scalpel and all bone and periodontal tissue is removed from the site. The tooth is removed in several pieces, and the gum is closed with sutures. The recovery from surgical extractions is longer than with a simple removal.
Recovering From Tooth Extraction
Simple and surgical extractions cause at least a little discomfort on the day of the procedure. Your doctor will prescribe a pain medication or tell you which over-the-counter medicine to take to reduce pain. Plan to take it easy and eat a soft foods diet for the first day after the removal. You may continue to bleed slightly following a surgical extraction, but this should stop within the first day. Apply an ice pack to the affected cheek to prevent or reduce swelling.
Visit the Dentist in Columbia
If you already know or suspect that you need to have one or more teeth extracted, don't fear! The team at Goodman Family Dentistry provides comfortable, efficient tooth extractions from the comfort of our office. Schedule an appointment to learn more.