June 1, 2022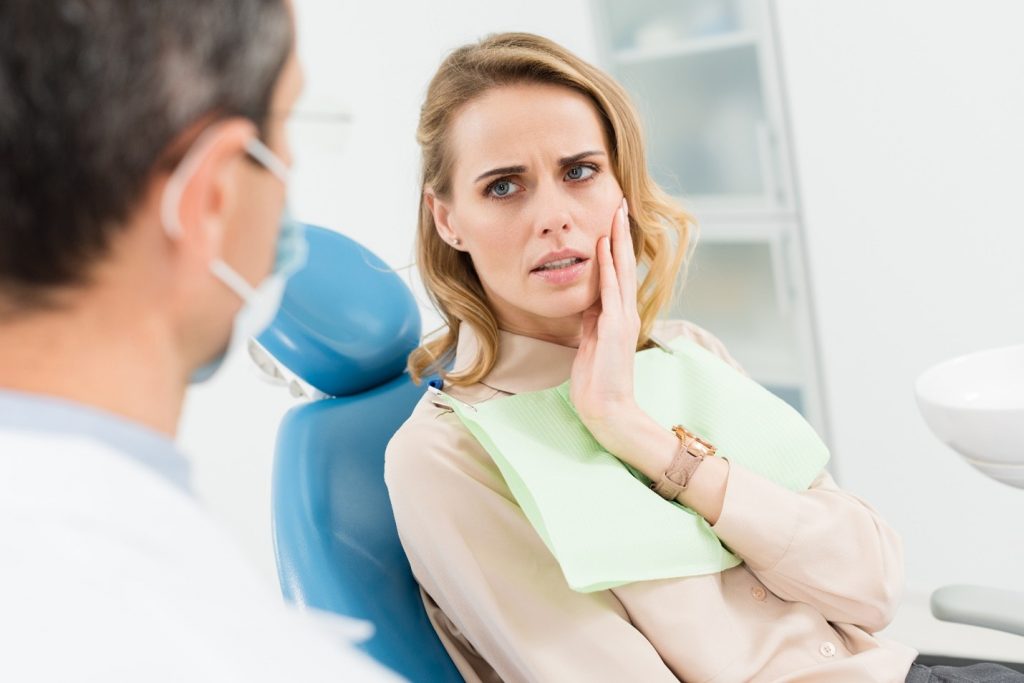 Having a tooth knocked out happens more than you might realize! According to the American Association of Endodontists, around 5 million US adults and children have one or more of their teeth knocked out annually. That said, what should you do when it happens to you? Is trying to put the tooth back in its socket yourself a good idea, or should you hold off until you can visit your emergency dentist? Keep reading to learn about how to handle this situation, along with some tips for preventing it from happening in the first place.
Can I Put the Tooth Back in Its Socket Myself?
The most important thing to remember if you've experienced a knocked-out tooth is that time is of the essence! Displaced teeth have the best chance of being salvaged if you're able to see your emergency dentist within 30 to 60 minutes. That said, immediately contact them upon having a tooth knocked out and explain the situation—they'll inform you when to come in. But in some cases, you can temporarily put the tooth back in its socket yourself if you're smart about it.
After locating the displaced tooth, carefully pick it up by the crown, its chewing surface. Be very careful to not touch its root. You can rinse the tooth off with milk if it's gotten dirty, but do not wash the tooth with water or let it dry out. Then, you can gently attempt to place it back in the socket; if it slides in easily, hold it in place by biting down on a piece of gauze. If the tooth is being met with some resistance, don't try to force it in, as this could damage your gums and the tooth itself.
If you can't safely place the tooth back in its socket, preserve the tooth in a glass of milk, a small plastic container, or Saran wrap until you can visit your dentist. Milk can preserve the tooth's cells for up to six hours, which should be plenty of time to seek professional treatment. Do not store the tooth inside of a handkerchief, Kleenex, or in water.
How Can I Prevent Additional Knocked-Out Teeth?
Though it's impossible to fully prevent your teeth from being knocked out, there are many preventive measures you can take to ensure they stay put. Consider the following:
Use the proper safety equipment, such as a mouthguard or helmet, during physical activities and both contact and non-contact sports.
Avoid sugary sweets and drinks that can increase the risk of tooth decay and cavities.
Practice regular oral hygiene: brush your teeth twice a day, floss, and use an antibacterial mouthwash.
Visit your dentist for routine checkups and cleanings.
Looking down at the ground and seeing that one of your teeth has been knocked out can be quite alarming; however, the situation isn't hopeless! A little quick thinking and knowing how to handle a displaced tooth can ensure that your tooth gets back to where it belongs.
About the Author
A Tennessee native himself, Dr. Alex R. Goodman proudly serves patients and families in the Columbia area! Dr. Goodman completed his dental doctorate at the University of Alabama at Birmingham School of Dentistry and has owned his own practice for over a decade now. He is pleased to offer several available services including emergency dentistry! If you or a loved one has knocked out a tooth, don't hesitate to schedule an appointment online or by phone: (931) 388-4315.
Comments Off

on Can I Put My Knocked-Out Tooth Back in Its Socket Myself?
No Comments
No comments yet.
RSS feed for comments on this post.
Sorry, the comment form is closed at this time.