August 10, 2022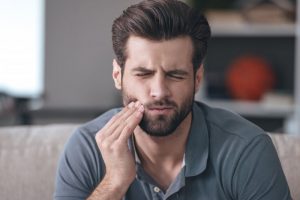 Dental implants are virtually indistinguishable from natural teeth in every way. Since they replace the roots of a missing tooth as well as the crown, they're designed to look, feel, and function just like natural! In fact, they're so comfortable and durable that many people forget they have them from time to time. The one big difference between dental implants and natural teeth is that dental implants don't have a central nerve inside of them. This won't really impact your day-to-day life, unless your dental implant begins to feel sensitive. Here's what could be causing your sensitive dental implant in Columbia and what you should do about this uncomfortable symptom!
What A Dental Implant Should Feel Like
Did you know that dental implants are widely regarded as the gold standard of tooth replacement? Essentially, the nerve of the tooth is the only thing they cannot replace. Everything else is accounted for, which provides truly realistic and lifelike results. Once you've recovered from your dental implant placement surgery and then restoration placement, it's natural for your gums to feel a little sensitive as they adjust to your new teeth. This should fade within a few days. Your dental implant shouldn't "feel" anything, as it doesn't have a nerve to communicate that information to your body. However, the surrounding healthy teeth and gums will still feel and report all the sensations in the area, so you may not even notice that your dental implant doesn't technically feel like anything.
What It Means If Your Dental Implant Is Sensitive
So if a dental implant doesn't have a nerve, what does it mean if it begins to feel sensitive? In reality, it's not your dental implant that feels uncomfortable, but rather the structures around it. A sensitive dental implant typically means one of two things:
There is an issue in the nearby teeth. Although the sensitivity may seem like it's coming from your dental implant, in reality it could be coming from the neighboring tooth. Tooth decay, enamel damage, enamel erosion, and many other issues can cause sensitivity in the natural teeth surrounding your dental implant, making it feel like your dental implant is sensitive.
There is an issue in the surrounding gum tissue. Sensitivity can also occur in the gum tissue, particularly if it's become injured or infected. While a small injury can heal on its own quickly, a more serious wound or infection should be treated right away. These problems can lead to a condition called peri-implantitis, which destroys the connective tissues that help hold the dental implant in place, eventually causing implant failure.
What to Do If Your Dental Implant Feels Sensitive
Sensitivity around your dental implant means it's time to call your dentist. It's unlikely that whatever is causing this uncomfortable symptom will resolve itself on its own, and taking a "wait-and-see" approach could potentially put your dental implant in jeopardy. Call your dentist right away so you can schedule an appointment and regain your healthy, comfortable smile.
About the Practice
At Goodman Family Dentistry, we're proud to offer caring and personalized dentistry to the smiles of Columbia and the surrounding communities. Dr. Alex Goodman and his team are dedicated to providing exceptional dentistry for the whole family, whether you're interested in a simple checkup, having a cavity filled, or replacing a missing tooth with a dental implant. If you're experiencing a sensitive dental implant, we encourage you to contact us right away. We can be reached online or at (931) 388-4315.
Comments Off

on Causes for Dental Implant Sensitivity & What to Do About Them
No Comments
No comments yet.
RSS feed for comments on this post.
Sorry, the comment form is closed at this time.