April 4, 2020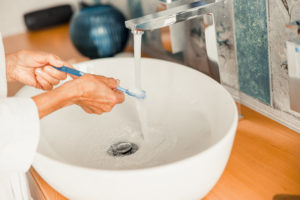 During these uncertain times, we are all taking extra precautions to help reduce the risk of contracting or spreading COVID-19. Social distancing, washing our hands more frequently, and wearing face masks when we go out are just a few examples of ways we are adapting to the current health crisis. However, many people do not think about the potential connections between oral hygiene and COVID-19. There are a few simple changes to your oral hygiene routine at home that can help lower the risk of getting this disease. Keep reading to learn 5 tips on COVID-19 oral hygiene from a local emergency dentist.
#1: Wash Hands Before Brushing Teeth
COVID-19 is often transmitted by the hands touching the face or mouth, so frequent handwashing has become a daily norm. Do you wash your hands before brushing your teeth? Handling a toothbrush and floss brings your hands very close to your mouth. Get into the habit of washing your hands before cleaning your teeth every day to reduce the chances of infection.
#2: Do Not Share Toothpaste or Floss
Buying the family-size tube of toothpaste can save a bit of money and be convenient if you have a large family. However, it is possible to carry COVID-19 for around five days before showing symptoms. If you are sick but not showing any symptoms, you could unintentionally transmit the disease by sharing toothpaste or the same floss with your loved ones – or vice versa.
#3: Disinfect Your Toothbrush
Thoroughly clean your toothbrush on a weekly basis by disinfecting it. Here are 4 different ways to keep your toothbrush germ-free:
Boil toothbrush for 5 minutes
Run toothbrush through a full cycle in the dishwasher
Soak toothbrush in mix of one part bleach to nine parts water
Soak toothbrush in a 70% alcohol solution.
#4: Store Your Toothbrush Carefully
Be mindful of where you place your toothbrush when you are not using it. Bacteria thrives in dark and damp places, so do not store your toothbrush in a drawer or cabinet.
Instead, keep your toothbrush in an open container, such as a cup with a sturdy base. If you share the toothbrush holder with other family members, be sure that the heads of your brushes do not touch! That would be an easy way to spread germs.
The safest option? Everyone in the household stores their toothbrushes individually.
#5: Practice Social Distancing
Social distancing can help reduce the chance of transmitting the virus – especially while brushing your teeth. When you brush, bacteria from your mouth can escape into the air. For this reason, be sure to stand six feet from others while brushing, or take turns in the bathroom in the morning and when getting ready for bed.
Remember, the mouth is the door to the body, so following extra oral hygiene precautions during this challenging period is critically important. For more oral care tips, do not hesitate to contact your dentist in Columbia.
About the Author
Dr. Alex Goodman has over a decade of experience providing quality oral care to families and individuals in Columbia. The Tennessee native stays active in the community by volunteering and has even been voted a Top 5 Dentist in Columbia by the Daily Herald. Patients old and new can learn more about preventive oral care by visiting the Goodman Family Dentistry website or by calling 931-388-4315.
Comments Off

on Follow These 5 COVID-19 Oral Hygiene Tips to Stay Healthy
No Comments
No comments yet.
RSS feed for comments on this post.
Sorry, the comment form is closed at this time.