February 28, 2018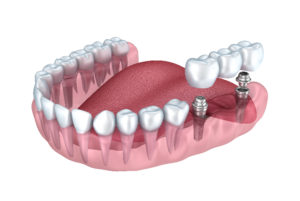 Are you tired of suffering from the daily complications of tooth loss? Are you ready to feel confident when you smile? If so, dental implants in Columbia can fill the missing space. As the most predictable and reliable solution to replace missing teeth, you benefit from an option that closely looks and feels natural. With over a 95% success rate, you will gain a long-term solution to restore your smile; however, before you are ready to make the investment, you are concerned about their cost. When budgeting for your new smile, there are several factors that you will need to consider.

How Much Will I Pay?
Unfortunately, there is no easy answer as to how much you can expect to pay for your new smile. There are several factors that will influence the cost. As a result, what your neighbor paid to replace their missing teeth will not be the amount that you will pay. To help determine the cost, there are several things to consider:
Number of Teeth: Dental implants can be used to replace one, multiple, or all your missing teeth. Generally, the more that need to be replaced, the more you can expect to pay; however, with implant-supported bridges, partials, and dentures, the price will be more affordable than replacing each tooth individually.
Materials: Although high-quality materials may cost more, they are worth the extra cost because they are more aesthetically pleasing and durable.
Additional Procedures: It is not uncommon to need additional procedures prior to the placement of the implant posts, such as tooth extractions or bone grafting. While they will increase the cost, the are necessary to ensure the long-term success of the treatment.
Oral Surgeon: To place the implant posts into the jawbone, you will need to see an oral surgeon. They will have separate rates than your restoration dentist in Columbia.
Restoration: After you have healed from the implant placement procedure, you will visit a restoration dentist for your custom-made crown. You will have to pay the fees for their services, as well as the materials used to create your replacement tooth.
Dental Insurance: In most cases, your dental policy will not cover the cost of the procedure; however, it may pay for a portion of it, such as tooth extractions or the restorations. Depending on your exact coverage, you can maximize the value of your policy to make the treatment more affordable.
Invest in Your Smile Today
Although dental implants do cost more upfront than more traditional options, like dentures, you will make a true investment in your smile and quality of life. Dental implants have the potential to last for a lifetime and do not require adjustments or costly maintenance appointments. As a result, they are more cost-effective long-term for an affordable solution.
About Dr. Alex R. Goodman
Dr. Alex R. Goodman is a trusted dentist in the community who creates healthy, beautiful smiles. In addition to general dentistry, he offers many areas of specialized care, including dental implant restorations. If you are ready to complete your smile, schedule your consultation with Goodman Family Dentistry today.
Comments Off

on Discover the Cost of Dental Implants in Columbia
No Comments
No comments yet.
RSS feed for comments on this post.
Sorry, the comment form is closed at this time.