April 18, 2019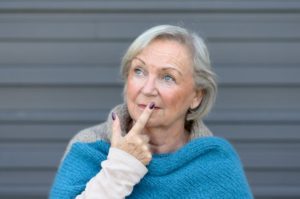 Did you know that missing just one tooth can impact your oral and overall health? Not only can it affect your ability to chew effectively, but your teeth can shift to compensate for the gap, changing your bite and potentially leading to additional tooth loss. If you've lost one or more teeth, it's important that you replace them, but which option should you choose? Dental implants and dentures in Columbia each provide unique advantages that you need to consider. Check out this helpful information to help you learn more about these restoration options.
What are the benefits of dentures?
As a popular tooth replacement choice for hundreds of years, dentures nowadays consist of realistically crafted prosthetic teeth that are attached to a gum-colored plastic base. Resting on top of the gums, full or partial dentures provide a natural-looking prosthetic and restore your missing teeth's function and appearance. Here are just some of the other benefits of having dentures:
Convenience. Because many dentures are removeable, they are easily to keep clean and maintain.
Preservation of your bite. If you have remaining healthy teeth, a partial denture can make sure that they stay in place properly, helping them last longer.
Affordable treatment. Out of the options, dentures are the most cost effective.
What are the benefits of dental implants?
Dental implants are titanium posts that surgically placed below the gumline. Then, they are topped with a dental prosthetic like a dental crown or denture. Because dental implants in Columbia replace the entire tooth structure from the root up, they are able to do many things that dentures alone cannot.
The following are examples of the benefits of dental implants:
Improved oral health. The surgically placed posts encourage bone growth in the jaw just like a natural tooth. This prevents bone density loss, which can cause your face to sag and have an older look over time.
Added security. While dentures can slip or come loose, dental implants are firmly integrated with the jaw bone. You can bite, chew, speak, and smile without worrying about your tooth replacements.
Versatile replacement. Dental implants provide the foundation for one tooth or an entire arch.
Longer lifespan. Dentures need to be replaced about every 5 to 7 years, but dental implants can last for 30 years or even longer with the proper care.
When would dentures be the best tooth replacement option?
Your dentist may recommend dentures in the following situations:
You have insufficient jaw bone to support dental implants, even with a bone graft.
Your budget doesn't allow for dental implants.
You are in a rush for your replacement teeth and do not want to wait to heal from dental implant placement surgery.
When would dental implants be the best tooth replacement option?
In most cases, patients with missing teeth qualify for dental implants. Because dental implants can be combined with dentures for multiple missing teeth, they can provide the best of both options. When you consider this plus the significant long-term health benefits that dental implants offer, it is clear to see why they are typically recommended more often than dentures.
In the end, the only way to know which choice would best meet your needs is to talk to your dentist in a consultation. They can review your specific case and make a personalized recommendation and treatment plan. Regardless of whether you decide on dental implants or dentures, you can enjoy a fully functional smile again, helping you have higher quality of life for years to come.
About the Author
For over 10 years, Dr. Alex Goodman has led the team at Goodman Family Dentistry. Having graduated from the University of Alabama at Birmingham School of Dentistry, he has been voted a Top 5 Dentist in Columbia by The Daily Herald. For tooth replacement, he offers dental implants or dentures to help patients regain their smile's function, health, and appearance. To make an appointment with him, you can call (931) 388-4315 or click here.
Comments Off

on Dental Implants and Dentures in Columbia: Which Is Right for You?
No Comments
No comments yet.
RSS feed for comments on this post.
Sorry, the comment form is closed at this time.