November 29, 2017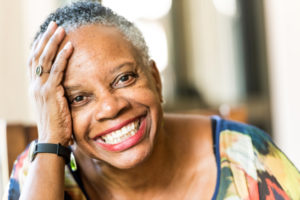 Many women with osteoporosis who have experienced tooth loss believe that dental implants aren't an option. However, studies have shown that women with osteoporosis may experience dental implant success rates almost as high as those without this bone density degeneration. Keep reading to learn more about how osteoporosis and dental implants may not be completely incompatible.

1 – Osteoporosis Doesn't Mean You Can't have Dental Implants
This is the most important thing to remember. As long as you are in good health, dentists can work with you and your physicians to create a tooth replacement plan using dental implants, but we may need to take some extra precautions. One of the most important things is that we need to closely monitor the progress of your implant as it fuses with the jawbone. This may mean you need to visit us more often than the traditional implant supported tooth replacement patients.
2 – Immediate Dental Implant Placement is Essential
The main factor in successful implantation for women with osteoporosis is immediate placement. The sooner the implant is placed, the better. In fact, for patients who need tooth extraction, it is best to place the dental implant post or posts on the same day the tooth is extracted. This saves you time and money, but it also dramatically increases your odds of successfully completing the implant placement process.
3 – You May Need to Change Your Medication
One of the main concerns with osteoporosis is the use of bisphosphates that are intended to freeze changes in the bone. While bone tissues stop diminishing, they also stop developing. This is the main concern many patients and doctors have when it comes to successful dental implant fusion. However, studies do show that these drugs have little effect on the ability for a dental implant to fuse with the jawbone, especially if the implant posts are placed immediately following tooth loss or extraction. We will review all of your medications and help you make changes as necessary to promote successful implant placement while maintaining optimal oral and whole body health.
Meet Dr. Goodman
At the Columbia dentistry practice of Alex R. Goodman, DMD, we are dedicated to helping patients maintain their healthiest smiles. If you've suffered tooth loss or need one or more teeth extracted, we will help you create a personalized treatment plan to repair your smile, and we always take the time to completely understand all of your oral and overall health concerns and how they may interact. This ensures you receive the most effective treatment plan whether or not dental implants are the right option for you. Call Goodman Family Dentistry today to schedule a tooth replacement consultation with our caring dentistry team.
Comments Off

on 3 Things Women with Osteoporosis Should Know About Dental Implants
No Comments
No comments yet.
RSS feed for comments on this post.
Sorry, the comment form is closed at this time.