January 13, 2018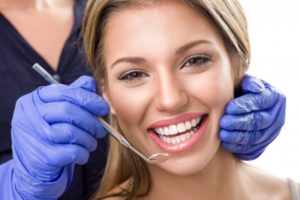 Many may see a pearly white smile and assume that their oral health is in great standing. Unfortunately, just because your teeth are white, does not mean that your dental health is the best that it can be. That means that it's important to take care of your smile from the inside out with tried and true dental hygiene practices that your dentist in Columbia recommends. Learn more in this week's blog post.
Whitening Products Don't Replace Diligent Oral Hygiene Practices
You may think that just because your teeth are bright and white that you have a healthy mouth. Unfortunately, just because you invest in whitening products that may wipe away stains overtime, your oral health could still be failing.
There are some patients that may buy and use over the counter whitening strips and replace regular brushing habits with whitening habits. Not only will this make your smile's health decline because of the leftover plaque and dental debris in your teeth and gums, but your enamel will begin to experience wear and tear from the harsh products.
The same goes for chewing gum rather than brushing your teeth. Sure, everyone wants fresh breath. But to get truly fresh breath, you should be brushing twice a day and flossing at least once a day—and don't forget to brush your tongue!
When you choose to chew gum instead of completing your dental routine, the bad dental bacteria and plaque are still present in your mouth. Eventually, you'll have bad breath again and probably experience dental problems in the future.
Better Dental Health Practices to Keep Your Smile Healthy and White
If you truly want a smile that's beautiful inside and out, you need to take care of your smile in the same fashion. Follow these helpful tips to reach optimal oral health and aesthetics:
Brush your teeth twice a day for two minutes per day.
Floss between each and every tooth at least once a day—even the back teeth.
Utilize an antibacterial mouthwash to help kill off bad dental bacteria.
Maintain a healthy diet to keep your teeth strong, enamel tough, and gums healthy to hold your teeth in place.
Drink lots of water to help the natural production of saliva—a natural acid neutralizer for your mouth.
If you want to chew gum, make sure that it's sugar-free!
As mentioned above, a white smile doesn't always mean a healthy smile. To determine the current state of your oral health, you should visit your dentist for a dental checkup and cleaning appointment. This way, we can evaluate your smile's status and help you improve any concerns that your dentist in 38401 may come across.
---
About Our Office
Here at Goodman Family Dentistry, we don't want our patients to be misled about their oral health. We're here to be your partner on the journey to a better smile—and this means that we're here to give you helpful advice as well. Learn more about how we can help you with dental tips and tricks as well as comprehensive services by giving us a call today!
Comments Off

on Dentist in Columbia Says White Teeth Aren't Always Healthy!
No Comments
No comments yet.
RSS feed for comments on this post.
Sorry, the comment form is closed at this time.