May 30, 2020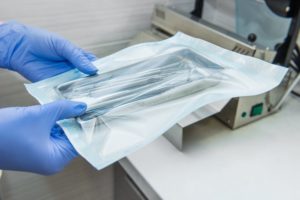 Your dentist is committed to your health and safety, which is why they didn't open their practice until they had established a thorough and effective safety plan in response to the COVID-19 pandemic. By implementing two dozen new safety protocols, they're able to provide hassle-free and effective dental care to ensure that patients' oral health doesn't decline while they self-isolate. Read on to learn about five ways your dentist will be prioritizing your wellbeing during your checkup and cleaning.
Frequent Handwashing
According to the CDC, one of the best preventive measures against COVID-19 is thorough and regular hand hygiene. Your dentist is being sure to diligently follow this protocol and has implemented the following handwashing procedure for their dental staff:
Wash hands before putting on gloves, after taking them off, and whenever they leave the treatment room.
Wash hands for at least 20 seconds.
Dry hands with a paper towel.
Don't wear hand jewelry or fake nails that can harbor bacteria.
Proper Staff PPE
There are several different types of PPE that dentists and hygienists are able to wear to keep patients as safe as possible. Your dentist will be decked out in N95 masks, face shields, eye protection, and disposable coats and hats. This way, they won't risk accidentally contaminating an area as they treat different patients throughout the day. Plus, the PPE will keep staff safe so they can continue providing care for patients throughout the crisis.
Advanced Chairside Suction
Instruments that your dentist uses, such as dental polishers, can aerosolize viruses and illnesses. This allows them to spread throughout the air and be inhaled, causing infection. Your dentist is using advanced chairside suction to prevent this from happening. While you're having your teeth polished and cleaned, there will be a small, vacuum-like tube that will be used to clear these aerosolized particles from the air and prevent the spread of infectious germs.
CDC-Approved Sterilization Methods
Whether your dentist is cleaning a surface, dental instruments, or reusable PPE like protective eyewear, they'll be using CDC-approved guidelines. Any instrument that goes in or near your mouth will be completely sterilized using heat and pressure. In addition, all surfaces that patients come into contact with, including in waiting areas and treatment rooms, will be disinfected after every appointment.
Virtual Waiting Room
Instead of having to wait in an area that has been trafficked by countless others, your dentist is offering virtual waiting and check-in from the comfort of your own car. That way, you'll only need to enter the practice to be guided back to the treatment room for your appointment and to leave. This also limits the traffic within the office, minimizing the risk of infection.
If you're concerned about what precautionary measures your dentist is taking to prioritize your safety, don't hesitate to contact their office and ask. They want you to feel comfortable and trust that your health is their top concern.
About the Author
Dr. Alex Goodman enjoys helping his patients optimize their oral health and preserve their natural smiles for their entire lives. He is an active member of several professional organizations and takes pride in staying up-to-date with the latest advancements in his field. He was also voted as a Top 5 Dentist in Columbia by the Daily Herald. For questions or to schedule an appointment, visit Goodman Family Dentistry's website or call 931-388-4315.
Comments Off

on 5 Ways Your Dentist is Prioritizing Your Safety During COVID-19
No Comments
No comments yet.
RSS feed for comments on this post.
Sorry, the comment form is closed at this time.