June 13, 2019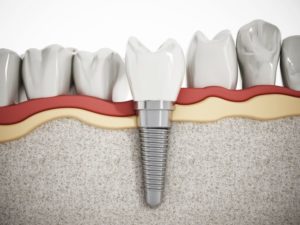 Dentists love talking up the positives of dental implants: they provide good chewing power, they last a long time, they keep the jawbone healthy, and they don't slip like traditional dentures. However, no medical solution is without disadvantages; there will always be downsides that will need to be considered before deciding if the procedure is right for you. Here are some things to think about before getting dental implants in Columbia.
They Can Be Costly
For many people, the biggest deterrent for having dental work done is the price. Compared with other procedures, implants tend to be more expensive in the short term. However, this factor can be mitigated by the fact that implants have a longer life expectancy (20 to 30 years or even longer) than bridges or dentures that usually need to be replaced every 10 years or so. Implants are also less likely to lead to the decay of natural teeth and can prevent bone loss in the jaw, so potentially avoiding future dental work could also be a factor in calculating cost.
It's a Surgical Procedure
Implants are surgically set into the jaw. For people with dental anxieties, this can be an intimidating prospect. You may also be concerned about discomfort during the surgery; fortunately, this can be controlled with anesthesia.
Recovery time will be required afterwards; there will be some swelling and occasional bruising during the first few days, and you'll need to stick with soft foods for a while. Normally, patients will be back to their normal routine in 7 to 10 days.
Not Everyone Can Get Implants
Some patients are not good candidates for implants. Tooth loss can lead to bone deterioration in the jaw; if it progresses too much, there won't be enough for the implant to join with. Other factors can lead to integration failure as well. Your dentist will examine your medical history and the current state of your health to determine whether or not implants are likely to work.
There Can Be Complications
Of course, like with any medical treatment, there are risks associated with implants. The surgical site may become infected or heal poorly. Micromovements could prevent the bone from growing around the implant properly. Alcohol and smoking can make problems more likely. Fortunately, many potential issues can be avoided simply by following your dentist's instructions and practicing good oral hygiene.
Dental implants can be an excellent way to maintain the appearance and functionality of your mouth after losing a tooth, but it's important to understand what you're asking for and what the long-term considerations will be. Make sure that you've voiced any questions or concerns you have to your dentist and have fully understood the answers before committing to the procedure.
About the Author
Dr. Alex R. Goodman has been helping patients at his practice, Goodman Family Dentistry, for over a decade now. He served as the President for the Tennessee Dental Association's 6th district from 2015 to 2016. For missing teeth, he offers dental implants as well as implant-supported dentures and bridges. To make an appointment, visit his website or call (931) 388-4315.
Comments Off

on What are the Disadvantages of Dental Implants in Columbia?
No Comments
No comments yet.
RSS feed for comments on this post.
Sorry, the comment form is closed at this time.