March 1, 2021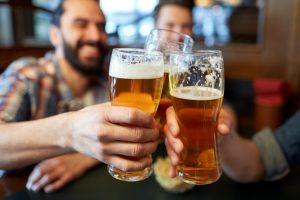 With spring break and St. Patrick's Day just around the corner, millions of Americans are anxiously awaiting the opportunity to get out and have some fun, which usually includes them consuming their fair share of beer. How does beer affect your teeth? Read on to get the answer and discover what can be done to protect your smile and prevent any dental problems.
How Does Beer Affect Your Smile Aesthetics?
An occasional beer won't take much of a toll on the appearance of your teeth, but if consumed heavily and frequently, there can be some effects. The dark pigmentation of certain varieties of beer can cause tooth discoloration, which can create an aged look. Over time, the stains will only get worse.
Some of the main offenders are stouts and porters. Beers made with darkly pigmented fruits like cherries and blackberries can be equally problematic.
How Beer Can Harm Your Smile
In addition to leaving you with stained teeth, excessively drinking beer can contribute to the following issues:
Enamel Loss – The enamel is the hard-outer layer of the teeth. Over time, the acidity of beer can wear it down, cause irreparable loss and lead to tooth sensitivity.
Gum Disease – Although most versions aren't typically sweet tasting, beer contains its fair share of sugars. Thus, drinking the beverage invites bacteria that look to feed on the leftover residue. This can contribute to gum disease (the infection and inflammation of the gum tissue).
Chipped Teeth – Unfortunately, many people take a more adventurous approach to opening beer cans or bottles – with their teeth. This is especially the case when they're already inebriated. Such behavior can lead to a chipped tooth and, possibly, a dental emergency.
Protecting Your Smile
Thankfully, there is a way to enjoy drinking beer without compromising your oral health – consume it in moderation. It's also super important to perform consistent and proper dental hygiene, which should include brushing and flossing after you've consumed beer or eaten a meal.
You should additionally pay attention to changes in your oral health. If you notice any gum bleeding, tooth sensitivity or other deviations from the norm, it should immediately be brought to a dentist's attention.
Visiting the dentist every six months for cleanings and examinations will make a huge difference as well. Not only will this contribute to a healthier mouth, but it will also provide an opportunity to receive professional teeth whitening to leave you with an attractive smile. By keeping all of this in mind, the next time you take a sip of beer, you can feel confident that your smile is protected.
About the Author
Dr. Alex R. Goodman earned his dental degree from the University of Alabama at Birmingham School of Dentistry. For over a decade, he has offered compassionate and comprehensive care to his surrounding community. To further sharpen his skills, Dr. Goodman maintains membership with the Millennium Study Club. His dedication to excellence earned him the distinction of being voted a Top 5 Dentist in Columbia by the Daily Herald. Dr. Goodman treats patients at Goodman Family Dentistry, and he can be reached for more information through his website.
Comments Off

on Can Drinking Beer Affect the Appearance of Your Smile?
No Comments
No comments yet.
RSS feed for comments on this post.
Sorry, the comment form is closed at this time.