February 6, 2019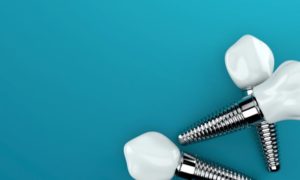 One question that's frequently asked about dental implants in Columbia is how long they last. The answer to this question may vary from one person to the next. In most cases, however, dental implants can last a lifetime with proper care. It's important to follow your dentist's recommendations, no matter what type of restoration you have.
Why Dental Implants Are a True Long-Term Solution
Restoring missing teeth is one of the greatest challenges ever faced by dental medicine. That's because your natural teeth do more than give you a beautiful smile. They aid in digestion, help to prevent infection, and play a key role in keeping the bones in your face and jaw strong. A true restoration must serve all of these purposes. Otherwise the patient will not receive all the benefits he or she deserves.
Dental implants were created with this fact in mind. Here's what makes them more like healthy natural teeth than more traditional approaches:
Implants draw their strength from the bones beneath your gum line, just like the teeth you were born with. This sets them apart from other types of restoration such as adhesive dentures, which use temporary measures such as creams or powders.
Implants are crafted from aircraft-grade titanium overlaid with artfully designed ceramic teeth. Not only do they function like natural teeth. They look like them as well.
Implants fuse with the surrounding bone through a natural process called osseointegration. This means they literally become part of the recipient's body. You can think of implants as an extension of yourself, not a mere artificial add-on.
A 2010 study found that 83% of dental implants were still in place 16 years after the procedure was completed. Compare this to other approaches such as adhesive dentures, crowns, and bridgework, all of which may need replacement in as little as seven years. It's easy to see why dental implants are considered state-of-the-art in modern restorative dentistry.
How Long They Last Is Largely up to You
None of this means that you can neglect your dental health after receiving your implants. To the contrary, it's important to follow all of your dentist's recommendations to enjoy the most benefit from the investment. This includes:
Brushing and flossing your remaining natural teeth. You should use a soft bristle toothbrush and nonabrasive brand of toothpaste. Otherwise you risk scratching the restoration.
Minimizing consumption of alcohol and strongly colored beverages. Not only can these products stain your natural teeth, they contribute to enamel erosion, a major cause of dental health problems.
Snuffing out the smoking habit. Both tobacco and vaping devices have disastrous consequences, not only for your teeth and gums but your body as a whole. Tobacco promotes the spread of decay-causing bacteria throughout your mouth, which can eventually cause face and jaw bone erosion. Talk to your dentist in Columbia about new medications that can help you to kick the habit for good.
Adopt a healthy lifestyle in general. This includes eating right, exercising, and minimizing the effects of stress in your life. A healthy body will give both your implants and your remaining natural teeth the support they need to stay strong over the long term.
 Dental implants are a great way to restore your smile and give yourself a new lease on life. Give them the care they deserve and you'll be reaping the rewards for a very long time to come.
About the Author
Dr. Alex R. Goodman earned his DDS degree from the University of Alabama School of Dentistry before opening his private practice here in Columbia. Besides being a skilled family dentist, he's also trained in implants, cosmetic, and restorative techniques. You can reach his office online or by calling (931) 840-8890.
Comments Off

on How Long Do Dental Implants in Columbia Last?
No Comments
No comments yet.
RSS feed for comments on this post.
Sorry, the comment form is closed at this time.