August 19, 2021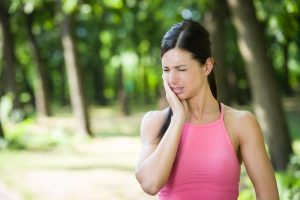 You feel great whenever you go for a jog around the neighborhood. After all, getting your heart rate up and your body moving causes your brain to release feel-good chemicals that boost your mood. However, if you develop tooth pain while you're exercising, it's hard to feel good about anything else. Why do you sometimes get a toothache when you work out? Here are four of the most common reasons.
Sensitivity to the Cold
Some people's teeth are more easily aggravated by exposure to cold (or hot) temperatures. If you go for a run first thing in the morning, the air may be chilly enough to trigger a sharp sensitivity.
One way to avoid this discomfort is to try inhaling through your nose and exhaling through your mouth. That way, your teeth will be protected from the coldness of the air. If you find that this helps, you may want to talk to your dentist about other ways to reduce sensitivity, such as brushing with desensitizing toothpaste.
Teeth Grinding or Clenching
Many people have a habit of clenching or grinding their teeth when they're stressed or exercising. For example, you might grit your teeth when you're running up a steep hill or pushing to complete the last stretch of a race. This habit, known as bruxism, can actually harm your teeth. As you run, every step you take sends reverberations through your whole body, and if your teeth are clenched, it can feel uncomfortable.
While running, focus on relaxing your jaw and keeping your upper and lower teeth from touching. This can prevent them from smashing together and causing pain.
Sinus Infection
Cold and flu season will be here before you know it. Believe it or not, sinus problems may actually be to blame for tooth pain in some cases. Your maxillary sinuses are located behind the roots of your upper back teeth. An infection, congestion, or pressure in your sinuses can feel as though you have a toothache. If you're prone to sinus infections, get it treated right away to keep your teeth from hurting while you work out.
Gum Disease
Sometimes, painful tooth sensitivity can indicate a serious oral health concern like gum disease. In fact, if you already have gum disease, it can feel worse while you're exercising. Blood flow increases when you work out, which can intensify inflammation in your mouth, resulting in pain. Be sure to contact your dentist if you're experiencing any other symptoms of gum disease, such as bleeding when you floss or brush.
Don't let tooth pain prevent you from getting the exercise you need to stay healthy. If your teeth are hurting while working out (or at any other time), consult with your dentist as soon as you can. That way, you can keep your smile – and body – in great shape!
About the Author
Dr. Alex Goodman has more than a decade of experience as a family dentist in Columbia, TN. He loves building relationships with his patients and helping them enjoy healthy smiles they can be proud of. He also provides fast emergency dental care. To relieve your tooth pain quickly, you can contact Goodman Family Dentistry at 931-388-4315.
Comments Off

on 4 Possible Reasons for Tooth Pain While Exercising
No Comments
No comments yet.
RSS feed for comments on this post.
Sorry, the comment form is closed at this time.