October 24, 2019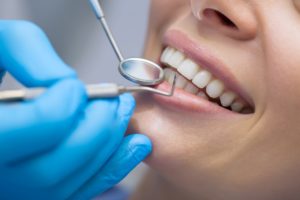 New innovations in dentistry make it possible to preserve your natural teeth for longer using a strong emphasis on prevention. Although you may think brushing and flossing are all you need to keep your teeth and gums healthy, that's only half of it. Instead, you also need to see your dentist twice a year for a checkup and teeth cleaning in Columbia. While you may think it's an unnecessary expense, this couldn't be further from the truth. In fact, routine dental care lowers your overall oral health costs. Now, it's easier than ever to get the affordable care your smile depends on using your dental insurance, but you need to act fast because your benefits are about to expire.

Do I Really Need to See a Dentist?
The American Dental Association recommends everyone over the age of 2 sees their dentist at least twice a year for a cleaning and checkup. Unfortunately, one-third of adults don't follow this advice. Many people feel dental appointments aren't necessary unless you currently have a problem, but this isn't true.
Routine cleanings remove harmful accumulations that increase your risk of common oral health issues, like tooth decay and gum disease. During your semi-annual appointment, your dentist will also monitor your dental health to detect any concerning areas while they are still small. The quick intervention lessens the need for a costly treatment in the future.
Overall, you'll lower your dental costs. In fact, research shows every $1 spent on prevention can save you $8 to $50 on restorative or emergency care. You can get the routine services you need for little or no out-of-pocket cost using your dental insurance.
How Can I Get Affordable Dental Care?
Every month you pay premiums for your insurance policy, which gives you access to affordable dental care. Since dental insurance focuses on prevention, cleanings and checkups are often covered 100% depending on your policy. Even with a proactive approach, a complication can still occur. You can quickly reinstate your oral health for discounted rates using your insurance. After paying your annual deductible, you're given a yearly allowance to use toward restorative services.
At the end of the year, your coverage is going to expire. If you don't use all your benefits, they will not carry over into the new year, and you won't be reimbursed. You'll lose the opportunity to keep your teeth and gums healthy for minimal out-of-pocket expense.
Invest in a Healthy Smile
Now is the time to schedule a cleaning and checkup before your dental coverage expires. Invest in a healthy smile for the new year!
About Dr. Alex R. Goodman
Dr. Alex R. Goodman has owned his own dental practice for over a decade. He strives to provide affordable care to the community to build healthy smiles that last. He focuses on prevention to ensure your teeth stay strong and healthy. Dr. Goodman will work on your behalf with your insurance carrier to reduce the amount you need to pay. If you need a cleaning and checkup before the end of the year, contact our office today to schedule your appointment.
Comments Off

on Schedule a Cleaning Before the Year Ends
No Comments
No comments yet.
RSS feed for comments on this post.
Sorry, the comment form is closed at this time.