July 1, 2017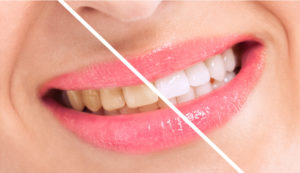 Do you want your smile to be as bright as the summer sun, but instead it is dull and has lost its luster? If so, you likely feel insecure about the appearance of your teeth. To restore its brightness, you have probably given a few over-the-counter whitening products a try. However, you did not achieve the results you wanted. Now, you may feel like you have no choice but to live with the discoloration. Don't get discouraged! Goodman Family Dentistry has the solution you need with teeth whitening in Columbia.

Why are My Teeth Discolored?
Your teeth naturally start to darken over time as part of the aging process. However, the severity of your discoloration is influenced by several factors, like your dental hygiene. If you do not care for your teeth properly at home and visit your dentist regularly, stains will develop. Not to mention, the foods and drinks you consume, like coffee, tea, and wine, also play a role. Darkly pigmented meals and snacks will cause your smile to dull as the years pass on. Plus, certain lifestyle habits, like tobacco use, will also cause your teeth to lose their bright, white appearance.
Why Do I Need Professional Teeth Whitening?
Now, when you walk down the oral hygiene isle at your local store, you are surrounded by whitening products. They seem like the perfect option because they are affordable and convenient. However, you will not get the results you want because they do not contain professional strength whitening agents. The only way to drastically reverse tooth discoloration is with your dentist.
How Can My Dentist Brighten My Smile?
At Goodman Family Dentistry, we allow you to enjoy the benefits of over-the-counter products while achieving lasting, noticeable results. We offer an at-home whitening kit that will lift away tough stains to give you a smile that is as bright as the summer sun.
After performing an initial consultation, Dr. Alex Goodman will find the cause of your discoloration. He will then use impressions to create custom-fit whitening trays to use at home. This ensures better results than the trays from the store by providing the even distribution of the whitening agent for more consistent results. Finally, he will give you the professional-quality whitening agent to deeply penetrate your enamel to use around your own schedule. For about 14 days, you will wear the trays for a short time each day. In as little as two weeks, your smile will be several shades whiter with results that will last.
Can I Maintain My New Smile?
Your bright new smile will last with the right aftercare. In addition to maintaining your oral hygiene and regular appointments with your dentist, you need to limit stain-causing factors. It is best to brush your teeth immediately after eating or drinking anything that is darkly pigmented. If you cannot, rinse your mouth with water. In addition, stop smoking as soon as possible to keep your teeth white.
Get a Bright Smile Today
If you want a bright smile to enjoy by the pool this summer, see if professional teeth whitening in Columbia is right for you. Contact our office to schedule your consultation.
Comments Off

on Get a Bright Summer Smile with Teeth Whitening in Columbia
No Comments
No comments yet.
RSS feed for comments on this post.
Sorry, the comment form is closed at this time.