February 10, 2022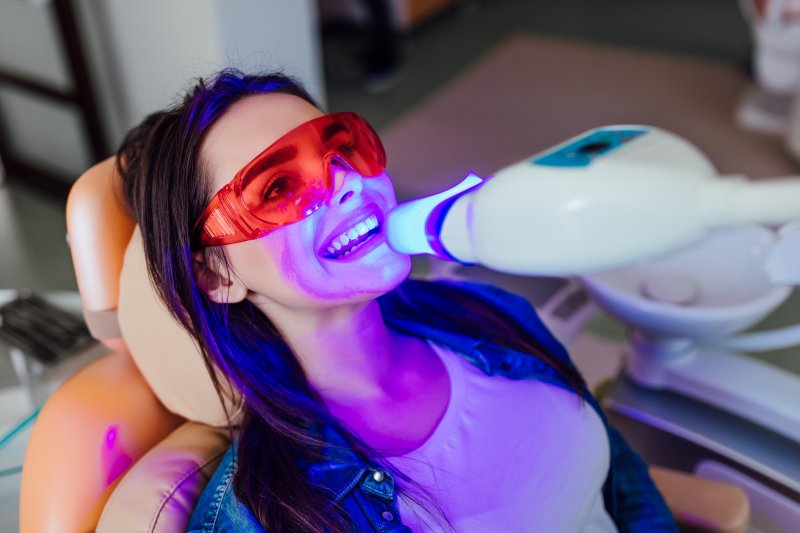 From the color of your teeth to how often you flash your pearly whites, a smile says a lot about a person. If discolored teeth have your smile saying the wrong thing, you may be considering undergoing a whitening treatment. Though there is a range of over-the-counter whitening products on the market, how do they match up to professional teeth bleaching? Read on to learn about the different kinds of professional and store-bought teeth whitening products to see which one is the best option for your smile.
Types of Store-Bought Whitening
When it comes to over-the-counter smile whitening products, there are several different kinds to choose from, including:
Gels and bleaches – These can be sold as "paint-on" treatments or with dental trays. The kind that comes with trays will instruct you to place the gel or bleach into them and wear them for a specified period. Unfortunately, since there's no guarantee that the trays will fit your mouth properly, this can cause the product to overflow. This can lead to gum damage or irritation.
Toothpaste – Whitening toothpaste usually contains abrasives, like charcoal or baking soda, that scrub away stains and polish the teeth. Though they may be effective at removing discoloration, they can also damage your enamel if used too often. This will make you more susceptible to tooth decay.
Strips – These contain bleach or peroxide and can be placed on your teeth to remove stains over a few weeks. Unfortunately, they usually only cover the front few teeth. This can cause your smile to look uneven.
Benefits of Professional Whitening
Though over-the-counter teeth whitening products may be tempting, there are several benefits to professional bleaching treatments. For one, they use much stronger formulas. This means that they will be more effective at lifting stains from your smile. Additionally, professional whitening is longer lasting, so you won't have to redo it as often. Since the treatment will be administered by a professional, this also means that it's safer. If you opt for a professional at-home treatment, you will also be given custom trays that perfectly fit your pearly whites and are much less likely to cause gum irritation than store-bought products.
Which Option Is Best?
Over-the-counter teeth-whitening solutions tend to cost less than professional products, but paying the extra money to receive treatment from a dentist is worth it. Since many dentists offer both in-office and take-home options, you will be able to either have your teeth whitened in just one visit or over the next two weeks on your own time.
As you can see, there are several benefits to having your teeth whitened by a professional. If you're interested in achieving a brighter set of pearly whites, reach out to your dentist so you can start your journey toward the brag-worthy smile of your dreams!
About the Practice
Goodman Family Dentistry takes pride in helping their Columbia patients feel comfortable and well cared for throughout treatment. They cater to people of all ages and administer a range of exceptional preventive, restorative, cosmetic, and emergency treatments for the whole family. Additionally, if your teeth are stained and don't look as luminous as they once did, they can administer both in-office and take-home whitening treatments to help you feel more confident in your smile. If you're interested in making an appointment with Goodman Family Dentistry or want more information on teeth whitening, call them at (931) 388-4315 or visit their website.
Comments Off

on Store-Bought vs. Professional Whitening
No Comments
No comments yet.
RSS feed for comments on this post.
Sorry, the comment form is closed at this time.