December 24, 2021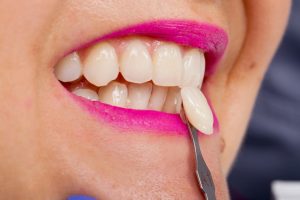 Almost anyone can have a picture-perfect smile with the help of veneers because you don't have to be a movie star to get them anymore. People from all walks of life are choosing porcelain veneers to enhance their smiles, which is why they rank among the top elective procedures year and year. Although you might believe they are a new advancement, veneers date back to long before your favorite celebrities ever stepped on stage. Actors from the late 1920s used the revolutionary treatment to create their red-carpet smiles. Here's how the history of porcelain veneers has made it possible to achieve the confident, flawless smile you desire.
1928: First Porcelain Veneers Placed
Charles Pincus was the first actor to use a form of veneers to adjust his smile during a film shoot in 1928. The veneers were attached using a removable adhesive, which lead to longer-lasting acrylic methods over the years. Although they lasted longer, they were damaged easily and needed to be replaced often.
1959: The Invention of Etching
Dr. Michael Buonocore revolutionized the procedure when he invented etching–a practice that's still used today. It involves applying a weak acid to the surface of a tooth to create deeper pits and grooves. This makes a more porous surface for the dental cement to have a better bond. Modern veneers can last for a decade or longer with the right aftercare, so they don't have to be replaced frequently.
1982: Modern Research and Development
In 1982, a research group found an etching technique that's still the standard for a variety of dental treatments, including veneers. Hydrofluoric acid is applied to the surfaces of teeth before a putty-like resin is placed on them. The bonding resin can hold veneers, crowns, and other restorations in place. This application process allows for a stronger, longer-lasting bond for semi-permanent dental treatments.
Modern Porcelain Veneers
Veneers undergo continual improvements to provide superior results, like the use of porcelain. The material closely mimics enamel to provide natural-looking results. Porcelain also allows veneers to be crafted thinner to require less enamel to be removed during the etching process. This makes the procedure less invasive. Although veneers are thinner than ever, they can thrive for decades before needing to be repaired or replaced.
The versatility of veneers has made them one of the most sought cosmetic dental procedures because they can correct various issues at once, like discoloration, chips, and gaps. After just 2 appointments, you can have the dazzling smile you deserve using a solution with a track record of success.
About Dr. Alex R. Goodman
Dr. Goodman earned his dental degree from the University of Alabama at Birmingham School of Dentistry before continuing his training in advanced studies, like cosmetic dentistry. Today, he is a well-recognized dentist in Columbia for superior services. If you're ready to invest in porcelain veneers, choose a Top 5 Dentist in Columbia by the Daily Herald. Contact our office today to schedule your consultation.
Comments Off

on Porcelain Veneers Throughout History
No Comments
No comments yet.
RSS feed for comments on this post.
Sorry, the comment form is closed at this time.