September 7, 2018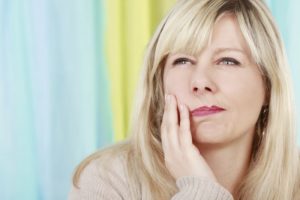 Whether moderate or severe, you don't want to deal with tooth pain. It can hinder your ability to carry out your daily functions and ruin a fun occasion. The first step to preventing such a problem, though, is to identify the source of tooth pain in Columbia. As you continue reading, a dentist discusses the causes of tooth discomfort and prevention methods so you can enjoy the best oral health!
Getting to the Source!
To aid in getting to the "root" of the problem, listed below are the top causes of tooth pain:
Cavities – Dental caries (cavities) are the leading cause of tooth pain. They develop from bacteria that linger in your mouth and release acids that wear down your enamel (the hard, outer part of your tooth). Over time, this can lead to tooth pain as the decay moves past the enamel and into the sensitive dentin area.
Broken Fillings – A failed dental filling can leave the more sensitive parts of your tooth exposed to food particles and bacteria. The result can either be moderate pain or more intense bouts of discomfort if the tooth becomes infected.
Cracked Tooth – A fall or sudden trauma to the face can leave you with a cracked tooth. Depending on the severity of the break, you may experience moderate to severe pain.
Understanding what contributes to tooth pain provides the ultimate doorway to prevention.
Keep it Clean
One way to stop tooth pain in its tracks is to practice excellent oral hygiene. Brushing and flossing your teeth a minimum of two times a day rids your mouth of the leftover food particles that cause harmful bacteria to grow.
This activity, done consistently and coupled with visiting your dentist every six months for preventive care, contributes to maintaining a healthy environment in your mouth.
Think Protection
If you're involved in sports, it's your best bet to wear a mouthguard. This will help to absorb any sudden impact to your mouth and prevent major damage to your teeth.
The Power of Being Proactive
By putting what you've learned here to use and getting in front of any oral health issues that could develop, you will save yourself time and money and prevent any unnecessary suffering.
So to have your mouth, teeth and gums cleaned and examined, a cavity filled or a tooth repaired, contact a dentist in Columbia today. With the help of a top local professional, you can enjoy wonderful oral health for years to come!
About the Author
Dr. Alex R. Goodman earned his dental degree from the University of Alabama School of Dentistry. Throughout his career, he has made dentistry a family affair, offering comprehensive care to patients of all ages. Dr. Goodman identifies the sources of pain and effectively treats them at Goodman Family Dentistry, and he can be reached for more information through his website.
Comments Off

on What's the Source of Your Tooth Pain in Columbia? Your Dentist Explains
No Comments
No comments yet.
RSS feed for comments on this post.
Sorry, the comment form is closed at this time.