October 7, 2022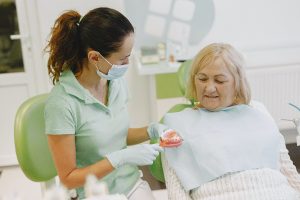 Whether you're getting dentures for the first time or you need a replacement, you can't go without any teeth for too long. Your health, quality of life, and confidence rely on getting a new set of teeth quickly, but how long does it take to get dentures in Columbia? Here's what you can expect on your journey to a complete, attractive smile. 
Consultation and Preliminary Procedures
A consultation with your dentist is your first step toward replacing your missing teeth. Your dentist will examine your mouth and review X-rays to have a complete picture of your oral health. Based on the results, you may need preparatory procedures, like tooth extractions or gum disease therapy. If any teeth need to be removed, it can take up to 6 months for the extraction sites to heal before moving on to the fabrication process.
Creating Your New Dentures
After you've healed from any previous treatments, your dentist will take impressions of the ridges in your mouth and measurements to create your bite pattern using a wax mockup. This allows your dentist to ensure the correct fit before making your actual denture. You'll return to your dentist many times to adjust the mockup to ensure a snug, comfortable fit. This will also include determining the size, shape, and length of your artificial teeth. Finally, the dental lab will craft your denture from high-quality, natural-looking materials. It will sit comfortably on your gum tissue, using suction to stay in place.
Process for Immediate Dentures
As an alternative to the traditional method, you can get your dentures the same day as your extractions. Immediate dentures are made from impressions of your mouth taken before your teeth are removed. The denture is placed in your mouth immediately after any extractions, which will need to stay in place for a length of time determined by your dentist, or problematic swelling can occur.
Process for Implant Dentures
Dental implants can support a denture, replacing both the roots and crowns of your lost teeth. However, the process can take much longer than the traditional method, but it's time well spent since dental implants can last for decades. After any prep work, implant posts are surgically placed into your jawbone. Your bone will fuse to them through a process called osseointegration, which can take several months. Once your jawbone has healed, you're fitted for your new denture. Some dental practices use the All-On-4 method, which allows you to undergo your placement surgery and get your denture on the same day.
Complete Your Smile Today
Your dentist will explain each step in the process and how long you can expect it to take. In no time at all, you'll have a beautiful, confident smile you'll be proud to share with the world.
About Dr. Alex R. Goodman
Dr. Goodman earned his dental degree from the University of Alabama at the Birmingham School of Dentistry and has completed extensive continuing education in advanced services, like implant dentistry. He strives to help each patient achieve their best smile. If you're ready to treat your missing teeth, contact our office today for a consultation.
Comments Off

on How Long Does It Take to Get Dentures?
No Comments
No comments yet.
RSS feed for comments on this post.
Sorry, the comment form is closed at this time.