November 17, 2021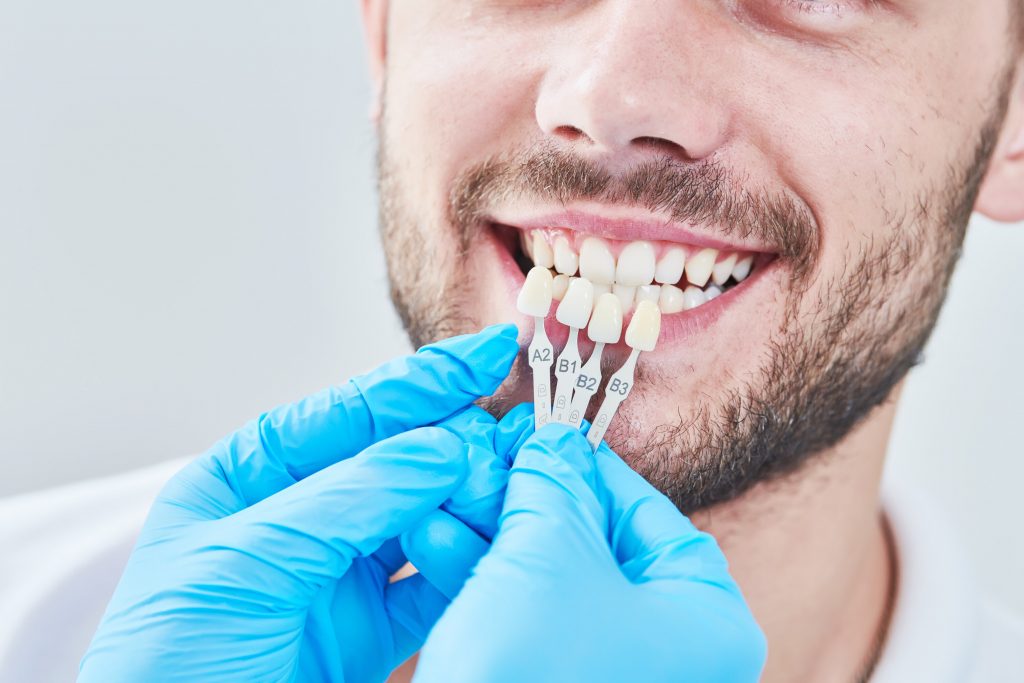 If you have stained, cracked, chipped, or misaligned teeth, these things can lead you to feel less than confident in your smile. Luckily, veneers can help! However, since a small amount of tooth enamel is removed to attach the veneers to the teeth, many patients wonder if this will lead to increased tooth sensitivity. Read on to learn more about how the veneers process works, their benefits, and whether they will make your teeth more sensitive than usual.
Will Veneers Lead to Increased Tooth Sensitivity?
To prepare a tooth so a veneer can be attached to it, your dentist will reshape its surface. This requires them to remove a small amount of tooth enamel that is nearly equal to the thickness of the veneer so it will fit snuggly and blend in with the rest of your teeth.
It's normal to experience some mild tooth sensitivity after any dental procedure, but for veneers specifically, the feeling can last anywhere from a few days to several weeks. Even so, some patients experience little to no sensitivity after the procedure. If your teeth continue to feel sensitive past the two month mark or you experience extreme discomfort, contact your dentist immediately so they can get to the root of the issue.
How to Relieve Tooth Sensitivity
Since veneers are permanent, they may actually help decrease tooth sensitivity. This is because they create a barrier between the damaged tooth enamel and things that can cause discomfort like overly hot or cold drinks. However, if you do happen to experience increased sensitivity following treatment, speak with your dentist so you can work together to relieve your symptoms. They may recommend products such as desensitizing toothpaste to lessen irritation.
5 Benefits of Veneers
Veneers are a popular and effective cosmetic treatment that offers patients a multitude of advantages. Five of the most noteworthy benefits include:
Color-match – Since the veneers will be color-matched to your teeth, this will make them blend in seamlessly with the rest of your smile.
Uniformity – Whether one tooth or an entire arch needs fixing, veneers can correct them and make them look more uniform.
Natural Look – Veneers look and feel natural, so people are unlikely to even be able to tell that they aren't your normal teeth! They are also highly stain-resistant, so they will remain bright and beautiful for years to come.
Low Maintenance – Veneers don't require a lot of upkeep outside of brushing, flossing, and visiting your dentist for checkups and cleanings every six months.
Smile Corrections – Veneers can fix a range of aesthetic concerns including cracks, stains, chips, minor misalignments, and small gaps between teeth.
If there are imperfections in your smile that are negatively impacting your self-esteem, consider speaking with your dentist about getting veneers. Though you may experience some mild tooth sensitivity in the days following your treatment, the long-lasting, beautiful results will be well worth it!
About the Practice
Do you lack confidence in your smile due to cracks, chips, gaps, or alignment issues? Veneers may be for you! At Goodman Family Dentistry, they specialize in administering exceptional patient care and will answer any questions or concerns you have regarding potential tooth sensitivity after undergoing a veneer procedure. They will also do everything they can to make sure you're comfortable during your treatment. For more information on porcelain veneers, tooth sensitivity, or to schedule an appointment, call Goodman Family Dentistry at (931) 388-4315 or visit their website.
Comments Off

on Will Getting Veneers Make My Teeth Sensitive?
No Comments
No comments yet.
RSS feed for comments on this post.
Sorry, the comment form is closed at this time.