December 7, 2019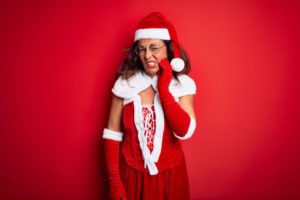 You're having the time of your life seeing your family over the holidays. Since it's warm outside this Christmas, your uncle decides that he wants to toss the old pigskin around. It's all good fun until your cousin tackles you a little too hard, and a sharp pain shoots through your mouth. You look down and see your tooth on the ground! What should you do? Keep reading to learn what to do if a dental emergency occurs over the holidays.
When to Treat Yourself at Home
In most cases, you should call an emergency dentist as soon as possible. Your regular dentist might not be open during the holidays, so you may need to visit a different one who is. If you would rather not, then you can call your regular dentist and leave a voicemail detailing your situation. They should get back to you as soon as they open after the holidays.
For minor emergencies, however, you can somewhat treat your situation at home while you wait for your dentist to get back to you. This includes a problem like a toothache. To treat a toothache, rinse your mouth out with warm water and take your choice of over-the-counter pain medication as directed on the bottle. If you're going to use aspirin, just remember to never apply it directly to the sore area, as it could irritate the surrounding gum tissue and worsen your pain.
If you have a filling or crown that falls out during the holidays, locate it if you can. You can use denture adhesive, dental cement, sugar-free chewing gum, or even toothpaste to coat the inside (after cleaning it) to reattach the crown or filling. Keep in mind that this is only a temporary fix, and that you should see your dentist for a more permanent solution.
When You Should Call for Help
One of the worst dental situations to have is a knocked-out tooth. In this case, after locating and cleaning the tooth, use a mirror to try and place it back in the socket. If that's not possible, hold the tooth in your mouth, in between your cheek and gums. Alternatively, you could put it in a container of milk until you can see a dental professional. The most important thing here, besides time, is to keep the tooth moist.
Having a dental emergency is no one's idea of a perfect holiday, but hopefully these tips can help you if one strikes.
About the Author
Dr. Alex Goodman earned his doctorate at the University of Alabama at Birmingham School of Dentistry. As of today, he has owned his very own dental practice, Goodman Family Dentistry in Columbia, TN, for more than a decade now. If you call his practice with a dental emergency, his team will find time to fit you into their schedule as soon as possible. To learn more, click here to visit Dr. Goodman's website.
Comments Off

on What to Do If a Dental Emergency Occurs Over the Holidays
No Comments
No comments yet.
RSS feed for comments on this post.
Sorry, the comment form is closed at this time.